I wondered how the hell I could have agreed to it. A f*cking $1,000 product, for God's sake…
Two months earlier I had promoted another product, which had done really well… but it had cost only 67 bucks.
Not $1K. Not 15 times more expensive!
And if that was't bad enough, I completely lose my mind, jump on a plane, and fly across the damn Atlantic from London to Las Vegas.
November, 2006
Las Vegas, NV
Now here I am…
The 23rd floor of the swanky Wynn hotel. But instead of cruising the casino floor with a long legged bombshell on my arm, armed with a $30 cocktail…
… I'm staring at a blank screen and flashing cursor in my room by myself, wondering how I got myself into this mess.
The view is great…
But I'm not here for the frigging view. I'm here to hammer out an affiliate promotion for a $1,000 product.
The one I had stupidly agreed to promote a week earlier (beer was involved). Come on hotshot, write something. It ain't gonna write itself.
Think.
Zag when all the other affiliates are zigging.
I stabbed at the keyboard of the Apple iBook G4. Click, click, clickety click. Enter. Click, click click. Enter.
After being locked away in that damn room for two days—hammering out email after email—it was time to face the music.
The journey I had been traveling had been a hard emotional rollercoaster…
I Still Remember The Day It All Began, As Clear As If It Just Happened Yesterday. Some Things You Just Never Forget…
I marched into the basement boardroom office, knowing what was about to come, and (strangely) feeling totally ok about it. In fact, I was looking forward it to.
The HR lady was already seated, head down, no eye contact. I liked her, she was a friend. So it was understandable that making eye contact with me was a little challenging for her.
That day, October 22, 2003, was her first of these nightmare career experiences.
Part of the job description for HR professionals. Even if they hope to dodge "mass culling" days like this. Forever.
Boss Man was there too. He had no problem making eye contact. In fact I was pretty sure he was wearing a little grin.
He didn't get up…
He had positioned himself with his back to the brick wall. A position of power. No doubt this was nothing new and terrifying for him. He had the t-shirt.
"Andre, take a seat."
He waved me over to a chair across the boardroom table from him. HR lady to my right. They had me surrounded.
After the deed had been executed with military precision, I stood up, stabbed my hand out, and thanked Boss Man for the opportunity.
I now wore a smile, and it was a lot larger than Boss Man's original concealed smirk…
I could see the confusion plastered across his face like a flashing pink neon sign above a Las Vegas titty bar.
People aren't supposed to be happy when they "get the bullet". They certainly shouldn't be grateful. Was fun leaving Boss Man in a state of confusion. My little going away gift for him.
One hour later, after I'd been escorted from the building armed with nothing more than two months redundancy pay as a "fuck you" package for 2 and a half years of loyal service, I trotted across the road to the agreed rendezvous point.
That's where the other dozen or so ex-employees were stationed, perched on bar stools, fortifying themselves at 11am with pints of beer.
It was a surreal situation…
The dominant emotion flowing as freely as the amber liquid was anger at the powers-that-be who ruled their ex-working place.
I wasn't surprised at all…
It's what happens when a startup gets acquired. The loose ends, the waste, it needs to get flushed out.
And what better time than 2 months before Christmas so they save themselves having to pony up thousands in bonus pay. Smart.
3 or 4 pints later, I was bouncing along on a train, heading out of London for the last time wearing a suit and tie conforming nicely to the status quo.
It felt weird sitting there.
Heading home…
Knowing that tomorrow, October 23, 2003, would be my first day as an ("unemployed") entrepreneur.
But a weight had just been lifted off my shoulders. I felt a very strange sense of calmness. A feeling I've never forgotten.
I felt lighter, much lighter, having just jettisoned all that baggage what comes with working a fucked up job with a department head who was the poster child of an asshole.
… and October 23, 2003 was also the scariest damn day of my "working" life.
I had nowhere to go.
No money coming in.
I was on my own, thrown in the deep-end to fend off the sharks.
It was time to learn how to swim, and damn quickly. I had no savings and only 2 months of buffer money in the bank.
I still remember telling my mother:
"Hey mom, I was fired today. And I'm not looking for another job. Ever. I'm working for myself now. It's awesome, I'm so happy!"
Silence. Blank stare.
Must have been shock setting in. It had wielded her lips tight together.
But 4 seconds later we hugged and she told me she knew I could do anything I put my mind to.
Things didn't start off easy. I didn't know what the hell I was doing.
Back in 2003 there were no mentors online. Training material was limited to expensive physically shipped stuff.
There was no all-you-can-eat smorgasbord of eBooks of anything and everything marketing. That didn't exist back then. Nothing did.
Those next three years were epic…
… if you can call working stress-fueled 14 hour days epic. But it's what I had to do. I hustled my ass off.
Somehow, slowly, things were working out for me as a full time affiliate marketer.
I was a zagger from the very beginning, refusing the call to conform to the status quo. That early decision shaped my trajectory.
In 2004 I read a book by the late Paul Arden (the former creative director for Saatchi and Saatchi at the height of their advertising might).
In it was a page about Decisions. And it's something I've never forgotten. In fact I'm pretty sure it's what helped guide me to the Wynn Hotel some 3 years later, in November of 2006.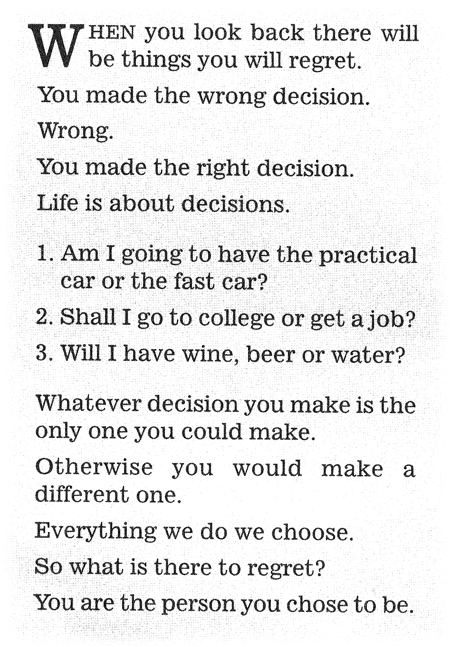 So Why Did I Choose To Promote a $1,000 Product?
Because it was the only decision I could have made. That's why. After being locked away in that Las Vegas room on the 23rd floor of the Wynn Hotel for two solid days, hammering out email after email, and broadcasting 'em to my tiny little email list of less than 1,000 freebie subscribers.
… what happened next completely changed the game for me. Forever. At least mentally, on how to play bigger. Way bigger.
It was showtime.
Launch was minutes away…
I had done all I could do. So the wifey and I decided to head downstairs for a late breakfast.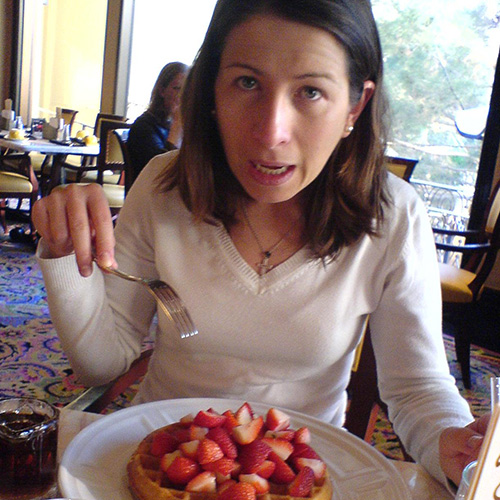 I treated myself to an Eggs Benedict. My favorite. The Wynn do the best I've ever had.
Little Mrs Sweet Tooth had a waffle with strawberries. Go figure.
About an hour later we ascended back up the 23 floors to check on the promotion.
I wasn't expecting any positive result. Selling just 1 or 2 total at that price point would have been a damn miracle.
So after logging into the affiliate dashboard, I just stared…
Blink blink.
Not believing the image being broadcast through my retinas, I called Anita over for validation.
A second opinion.
This was her digitally memorializing the moment forever more.
I still get goosebumps looking at this image. Because it was the result of having the guts to roll the dice at this level.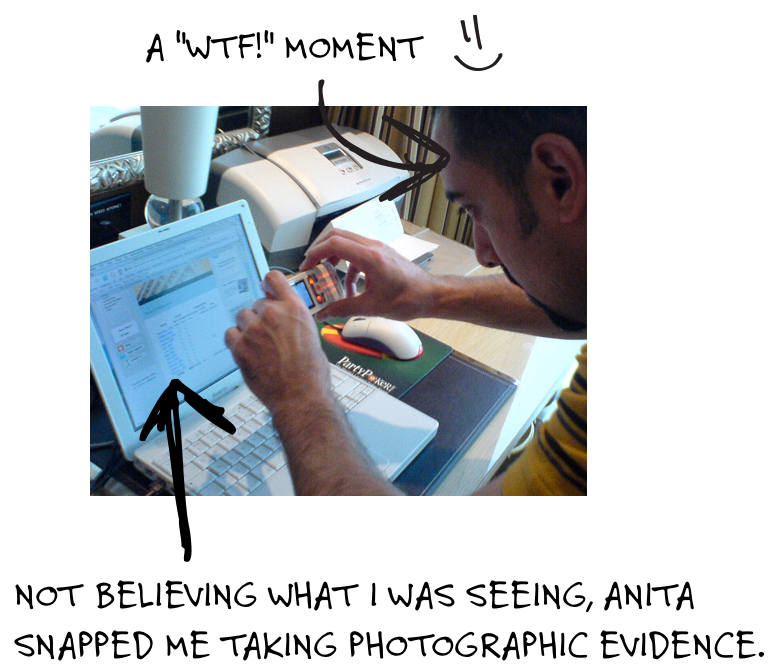 In that one hour, it was showing $20,000 in commissions… which I could only image was a monumental mistake in how sales were being credited to me. It had to be.
I ended up pocketing more than $70,000 from that promotion. No mistakes were made.
I finished as the #1 affiliate, just to add to the clusterfuck of emotions I was feeling after that spell in Sin City back in 2006.
I beat out a lot of big-name gurus with massive email lists. Names you'd recognize today, like Rich Schefren.
… and all from just a tiny list of less than 1,000 (freebie) subscribers. Go figure.
Now let me show you what I did.