TLB TRIBE Is Our BADASS Private Community of Ruckus Makers
Earning an independent living from serving an audience and mattering to them, is hard work, that can sometimes be lonely.
TLB Tribe is how we help serve and support our community, LONG-TERM.
We're a group of people that have come together because we realized that in order to build something that we care about—and which matters to those we serve—we need to quit thinking about it, and actually DO IT (#GetShitDone).
We can't do our best work in isolation. We all need help from other smart motivated people on the same journey.
Which is why we created TLB Tribe. It's for you. And others like you.
---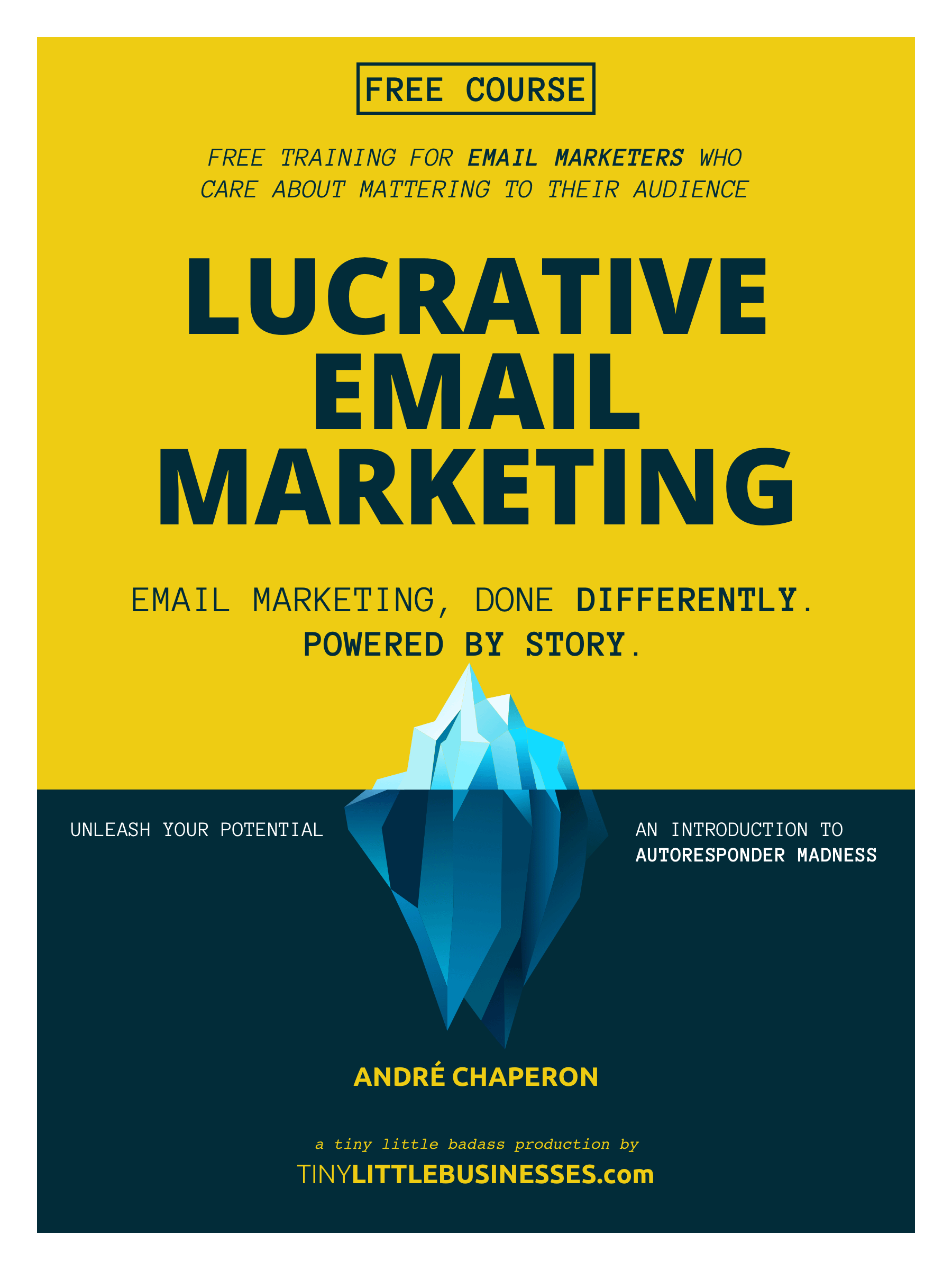 Lucrative Email Marketing (FREE COURSE)
We approach email marketing (very) DIFFERENTLY.
If you care about mattering to your audience, this free training will expose you do a unique email marketing strategy with the power to move people's hearts, minds, and wallets, and your direction.
Once the system is rigged up, it's the thing of beauty (almost magical).
NOTE: This training is an introduction to our signature email training, AutoResponder Madness.
AutoResponder Madness (MASTERCLASS)
"ARM is the best thing you're ever going to buy if you're sending emails." — Perry Belcher & Ryan Deiss (DigitalMarketer.com)
ARM is a strategic approach to story-powered email marketing.
Email is the perfect delivery vehicle to build and nurture your cadre of super-fans (who buy everything you put out).
LEVEL-UP how you communicate, connect, persuade and influence your audience.
---
Lucrative List Building (FREE COURSE)
If you care about ATTRACTING an audience worth serving, how you BUILD that audience matters.
It's not about trying to matter to EVERYONE. It's about mattering to some, and IGNORING everyone else.
This free training teaches a unique and different approach to engineering an audience funnel that both attracts your best prospects, and repels (filters out) those people you DON'T want to do business with.
TLB 2.0: The Course (MASTERCLASS)
TLB 2.0 is our flagship project-based training for internet marketers who care about building an online business that earns you an independent living; with the freedom to live the life you desire.
This is our biggest, baddest, "MBA-level" training we've ever created.
Version 1.0 was released back in 2011. Version 2.0 is better in every way. It's our best work that we're most proud of.
It's for people who want to go from ZERO to a $100K/yr business.
COMING LATER IN 2018

---
Storytelling for Marketers (MASTERCLASS)
This is a MASTERCLASS with our friend, Micheal Hauge, about story-powered marketing.
Michael is a 30 year veteran Hollywood story coach, who has worked with every major studio, on films starring (among many others) Will Smith, Julia Roberts, Tom Cruise, Reese Witherspoon and Morgan Freeman.
Learn how to tell a powerful story that connects with prospects & wins customers.
Sphere of Influence: The Art of Invisible Influence (MASTERCLASS)
Ever wondered what separates the sales pages that convert at 1-3%, from the ones that convert at 5-20% (and in many cases way higher)?
The answer is often less to do with the sales page copy itself, and more to do with what happened to the visitor BEFORE they arrived at the sales page (and in many cases, long before).
In a nutshell, SOI is all about creating marketing that affects what people NEED to BELIEVE, REALIZE and AGREE to in ADVANCE, before they can ACCEPT the NEED for the product or service you have for sale.
This is a masterclass on PRE-selling.
---