This is the most important page on this website. Please read this entire page because I'm going to give you the secret right up front.
And after you read this, please take a moment and really think about what it means.
This is the crucial difference between what we do and what everyone else does, and it is why we make more money per subscriber than most other internet marketers.
It will work for you too – absolutely guaranteed. I know this because I've been helping email marketers with this since 2009, when I first released AutoResponder Madness.
Here's what Ryan Deiss & Perry Belcher of Digital Marketer had to say about ARM at their Traffic & Conversion Summit:
Ok, here goes … that secret:
We don't—repeat, DON'T—push out emails to all our subscribers, mass broadcast style, whenever we want to promote something.
In fact only 5% of all the emails we send are via manual broadcasts. Instead we use automated systems that trigger "soap opera sequences" (SOS) based on subscriber behavior.
This results in the system (automatically) sending:
the right email,
to the right person,
at the right time.
Seriously, STOP and think about that for a second.
.
.
It's profound, right?
Imagine having the ability to send emails that are 100% RELEVANT to every subscriber on your email list.
No one does this.
I'll explain the contrast with a recent example…
Here's me on stage at Mindvalley's Zentrepreneur (October 22, 2015 in Costa Rica):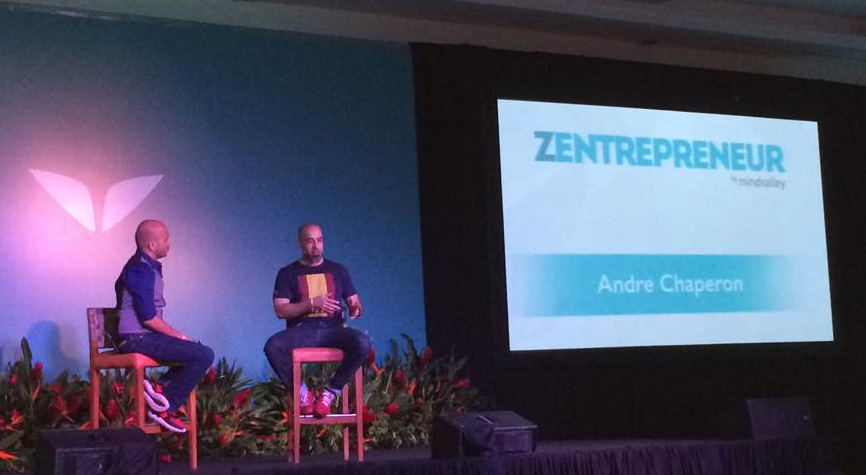 (I'm the one of the right btw.)
I was doing Q&A. One of the attendees told me how well he does at affiliate promotions.
I asked him whether he sends all his promo emails to the ENTIRE list.
"Of course," he said.
"Interesting. How large is your list?" I asked.
"Around 100K," he responded.
"Home many sales do you typically get?"
"We earn $5-$30K per promo, most times. Depends on the offer, of course. Anywhere from 50-200 sales at a time, I guess," he said with pride.
"Okay, so at even 200 sales … that's, what? 0.2% of your list, right?"
"Umm … yeeeeeeah, I guess so."
"Which means, best case, your promos that generate the most sales, are NOT RELEVANT to 99.98% of your email list, yes?"
"Err … I've never thought about it like that. Oops!"
Let's do the math quickly to work out his EPS (Earning Per Subscriber)…
$30K / 100K = $0.30 (that's on the high end).
$5K / 100K = $0.05 (that's 5 cents per name on his list)
In contrast, there's what happens to me (and my clients)…
For example, I have one promo that is 27 emails DEEP into a SOS. Meaning, there is a link to an offer on email #27 of this particular automated email sequence.
ONLY people interested in that offer, click the link. Everyone else doesn't. Because at that point in time it's not relevant to them.
Here's what happens next…
That individual subscriber behavior triggers a SOS (soap opera sequence) for that offer.
More TARGETED (read: RELEVANT) emails are then dripped out (over a few days).
The promo that gets automatically triggered on email #27 has a conversion rate of 31.42% selling a $127 product.
… WITH NO SALES LETTER!
(It sends people directly to a cart.)
EPS of everyone on that segment = $38.64.
That's not a typo.
You've prob'ly heard stories that most poo-roo marketers earn on average, $1 per subscriber per month.
Meaning if their email list is 50,000 big … they'll typically earn $50K/mo from that email asset.
The "best" gurus can squeeze out an EPS of $3.
Yet we earn between $10 (on the low end) and $50+ PER SUBSCRIBER, depending on the segment and offer being promoted.
You can do the same (or similar).
It's not so much rocket-science and magic as it is about matching RELEVANT emails with the needs of your best subscribers.
Listen to Brian Moran here:
"… Andre sitting at #3 is getting like a 72% opt-in. If you wanna ask him how he did that, go ahead."
This was for his Fan Page Funnel launch back in mid-2014. Here's how I got that high opt-in (hint: it's all about relevance).
Anyhoo…
I have a small email list. I mean, it's tiny. So the fact that I was even #3 in the pre-sales contest was a miracle. But I knew for sure when the shopping cart opened, I would rise up.
… which is exactly what happened.
I finished as a #1 affiliate.
Pre-refunds I earned $77,802 from a list segment for this promo of just 2,058 subscribers.
That's an EPS of $37.80.
After the launch was finished, here's what Todd Brown had to say: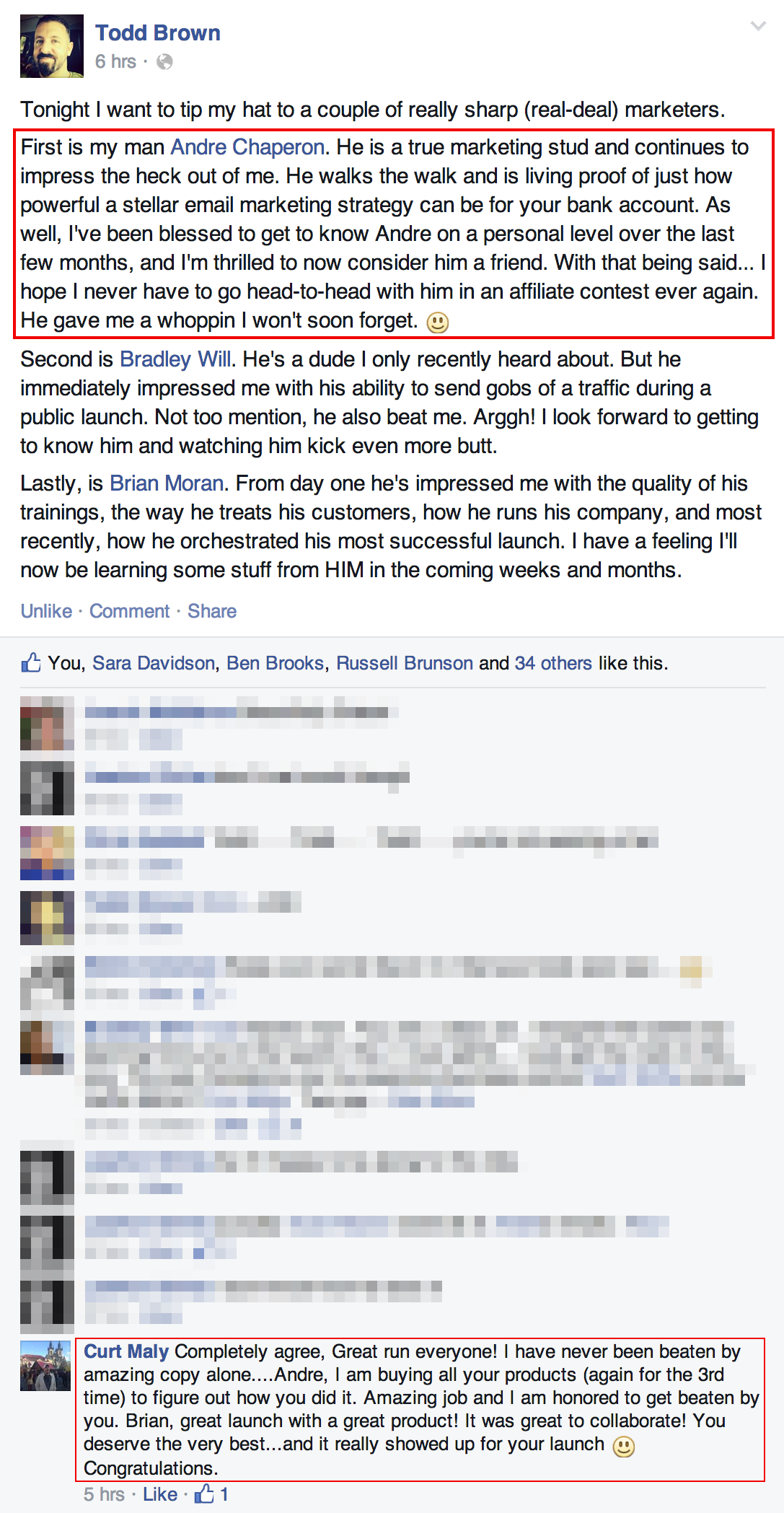 Hahaha!
Here are some of the EPS metrics from the previous few offers we've promoted:
$16.30, $10.19, $18.49, $14.46, $15.52, $41.01, $22.94.
And here's the results from ONE 188 word email that was hyper-targeted (relevant) to the audience (which was part of the aforementioned launch):

That's 43 sales from less than 200 clicks. Producing an EPC of over $100. Not bad. Not bad at all. That email earned us an extra $21K (or $114 per word).
$106.63 EPC (earnings per click).
If you're interested, I want to show you behind the curtain on how I approach email marketing from a strategic level, and how I rig systems to achieve results like I've mentioned on this page.
EARNING DISCLAIMER: On this page I reveal some of the results I've achieved by building very successful email campaigns through relevance. And I hint that our customers and clients also achieving similar levels of success from using my system and methodologies. Totaled up, these figures are in the mega-millions.
Please understand that I am absolutely NOT implying that these results are typical and that you'll match them. Such a claim would be ridiculous–especially considering we've (probably) never met, and I don't know your product, your business, your price-points, or anything else about what you do.
— André Chaperon
Author of AutoResponder Madness (2009-2019)
P.S.
WARNING: Entering "Email Wonderland" may lead to side effects such as: building a captive audience, customers or bosses that love you, money, fame, and location independent living.
Just saying.