It was 2007.
To build an email list, the hot new craze was to create a $7 front-end loss leader report as a barrier-to-entry.
It was an attempt to weed out the freebie seekers. And to a degree it worked quite well. Meaning, lead quality went up some.
Job done. List owners were happy.
Problem was—in my opinion anyway—$7 isn't really much of a "barrier" per se, even for someone on a small budget.
Sure, the complete waste of time typer-kickers thought twice. So from that perspective, it was a result.
Not me though…
I wanted to create a scenario where I would get leads that were worth $97 a pop, not 7 bucks.
But putting up a $97 report on the frontend was a sure-fire way to kill list building efforts stone dead. It just wouldn't work well. Too expensive.
The brief of my "evil experiment" was simple:
Create a barrier-to-entry scenario that would act like a $97 report would, but,
also build a list almost as fast as a free offer.
I wanted to achieve the best of both worlds.
Now…
There were a few interesting "side effects" to this evil experiment.
My opt-in rate was running at around 20%.
Nothing fantastic.
Average at best.
I was happy to sacrifice my opt-in rate some if I could bump my lead quality up.
That would have been a good tradeoff.
But what ended up happening… well, kinda shocked even me. Instead of going down… my opt-in rate more than DOUBLED, from 20% to 50% and some change.
In hindsight is made perfect sense. But at the time it was a pleasant surprise.
Here's what I did…
I retooled my opt-in offer to look like this (sorry about the non-styling but I couldn't find the stylesheet I used, so this screenshot is kinda ugly looking):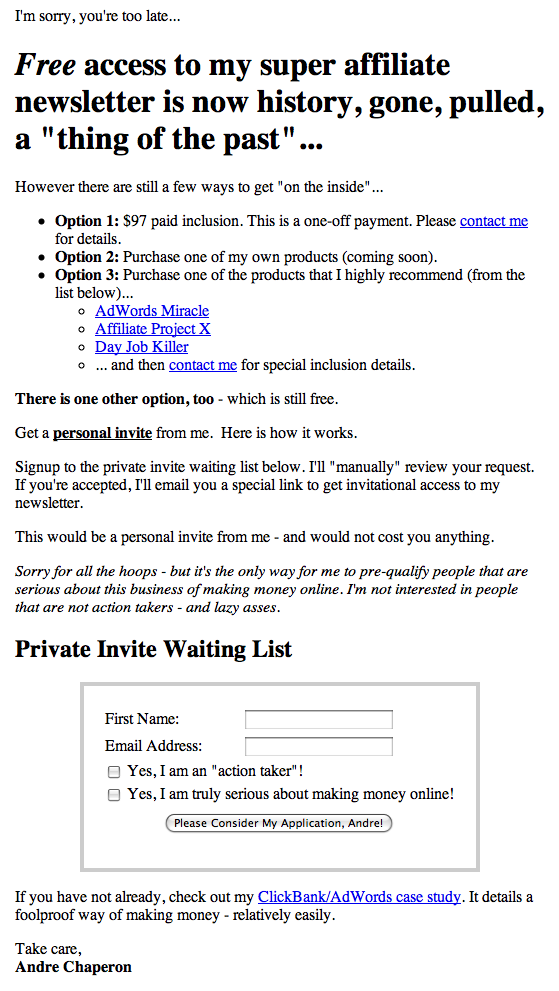 Notice the reframe.
Option 1 — $97 in cash. Option 2 was to buy one of my products (which wasn't ready at the time) … and Option 3, if I remember correctly, was $77 a pop (meaning the affiliate products cost that much).
Which ever way they looked at it — the "entrance free" wasn't cheap.
But…
… then where was the little "loophole". And although it was free, it didn't FEEL that way (from their perspective).
Because there was no guarantee of getting in. It was a total crapshoot.
Free, but NOT free. This set the frame for what was about to follow.
Muhahahaha!
There's the first email the autoresponder sent them:
Did you notice what I said? …
"If you don't hear back from me within 3 days, then I'm sorry. Your request has been declined…"
It was in the subject line too.
I wanted the 3 DAY part to be crystal clear. Because I WANTED them to feel as if they had missed out if the next email didn't arrive in 3 days.
Two reasons:
People want what they can't have (or what's HARD to get) and,
the fear of loss is the massively powerful persuasion technique.
… and guess what? I didn't email them for a full WEEK (think about that for a second … as in what THEY may have been feeling).
Here's the autoresponder email that went out ONE WEEK later:
Look at all the hoops I made people jump through.
Yet, when that email hit their inbox 4 days LATE, it was like a lifeline—a second change was given to them. They JUMPED through that final hoop with enthusiasm and gusto.
Opt-in rate went up by 30%.
… and lead quality went through the freakin' roof!
Go figure 🙂
No reason at all why you can't create your own version, so long as you understand the principles I discussed in this post, and the strategic methodologies I teach in AutoResponder Madness.
Now go make a ruckus!
— Andre "shenanigans" Chaperon