How To Use the Art of Story-Driven Preselling to Build Tiny Email Lists That Generate Monster Profits.
Let me explain the diagram blow. Because the "devil is in the details":

It's based on a universal marketing framework, but "tweaked" in an unconventional way. At its most basic level, it breaks down like this:
Targeted POP (pocket of people):
Filter out the people who you don't want to do business with (pre-squeeze; as in BEFORE you get them on your email list!)…
Then get the best people onto your email list (in a way that pulls them towards you — which almost always rules out "bribes" and lead magnets)…
Email follow-up sequence (al la AutoResponder Madness)…
Offer. (Once you've established trust and attention.)
I'll cover each one in detail.
But FIRST you need to know something, just so that we're all on the same page.
I am going to expose you to a (very) DIFFERENT way of approaching list building. I've never been one to conform to the "status quo" way of building an email list (read: where bigger is better).
The "poo-roos" love big lists that have been built as a result of using bribes and money magnets to get people through the door and onto a list.
It of course works well for them, or they wouldn't be doing it.
… but it's not the only (or best) way to get a result.
I prefer another strategy…
One that's based on a philosophy I learnt from Jay Abraham a million years ago, called the Strategy of Preeminence.
(In the 17+ years I've been doing this full-time, I've found no better way to build and operate a preeminent audience-based business.)
You see, I prefer smaller lists that are ultra-targeted and hyper-responsive (where I can really matter to some, as opposed to trying to mattering to everyone).
Lists that have been built through "attraction" over "bribery".
… and where I own the most important asset of any email list — their trust and attention.
The distinction may not be clear to you.
So I'll explain (it's important; because the dynamics of each produce a very different result).
Typical "Status Quo" Guru Method
Short squeeze page. Typically blind. With a "carrot" (bribe) in the form of a money magnet in exchange for an email address.
As a prospect — a person that lands on this squeeze page — think through the dynamics for a second of what happens.
There's an offer (cool report)…
There's really no real DESIRE to be on this email list per se, other than to get access to the report (the shiny object or bribe).
So the prospect (typically) uses a bogus email address. Or one they've setup specifically to download free reports (read: not their primary email address).
From the marketers perspective, they see a 50-70% opt-in rate…
Whoohoo!
Booyakasha!
The poo-roo shoots, and scores!
Err … not so fast, tiger 🙂
Because around 20-60% of those "opt-ins" are useless (worthless) email address…
(That's a stat that I heard Ryan Deiss or Perry Belcher quote from stage a while back, so my guess is that 20-60% is prob'ly a pretty accurate summation of the problem.)
My favorite is bill.gates@microsoft.com. If you're a poo-roo and see that email in your database, that's me 🙂
So let's look at an alternative setup…
The Unconventional Approach
There's a story.
The story is the delivery vehicle for a marketing message that works to establish preeminence. One that connects, persuades and influences.
It terminates with a barrier-to-entry — a little "hoop" to jump through — in the form of an opt-in (squeeze) form.
… which is now framed as an "opportunity" to hear more from you. To hear more of the story and to get more of the high-value content.
This is where things change…
Where the dynamics of the frame is very different…
Because the prospect is no longer feeling bribed to cough up their email address.
The value exchange is very different.
Now instead of using a bogus email address, they use their best (primary) email address to move in your direction (they're attracted into your sphere of influence).
In other words … THEY WANT TO BE ON THE LIST.
This is exactly how I earn monster profits from tiny email lists. These are "assets" that I can leverage for years and years, long into the future.
Proof?
I have a ton of proof. But here's the most recent as I write this…
Two weeks ago I promoted a product as an affiliate. It was for Todd Brown's Six-Figure Funnel Formula product launch.
I was the #1 affiliate for that.
I beat out the likes of Rich Schefren, Charles Kirkland, Jonathan Mizel, Gauher Chaudhry, etc: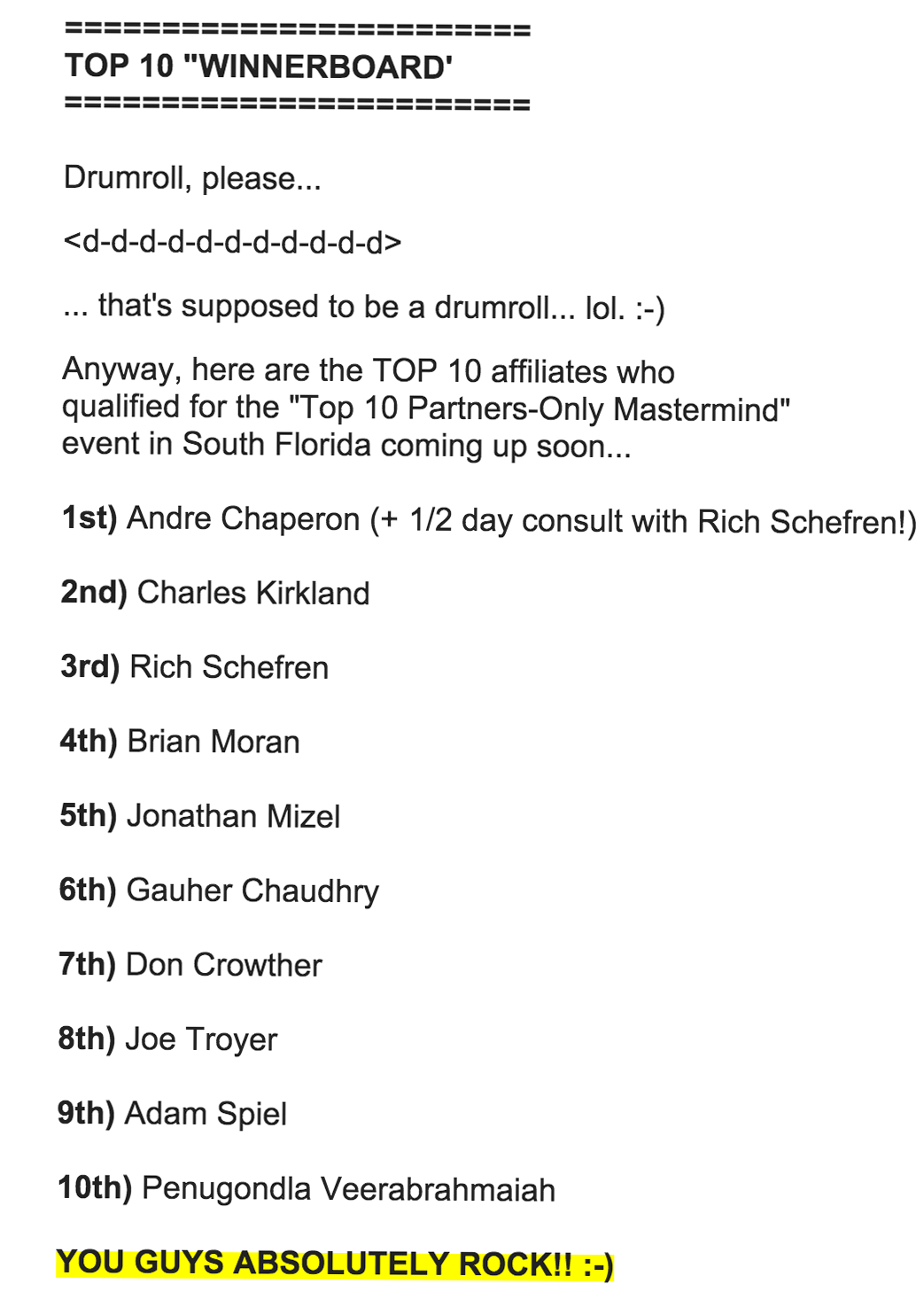 They have big guru lists.
I don't.
I promoted 6FFF to a list of just 1,391 people…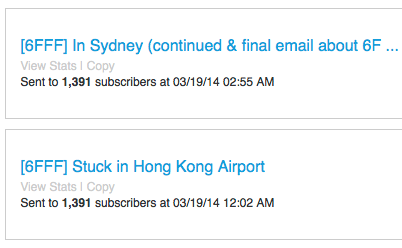 Interested in learning how to do this?
Cool.
Because this is how I build HIGHLY-RESPONSIVE & very LUCRATIVE email lists.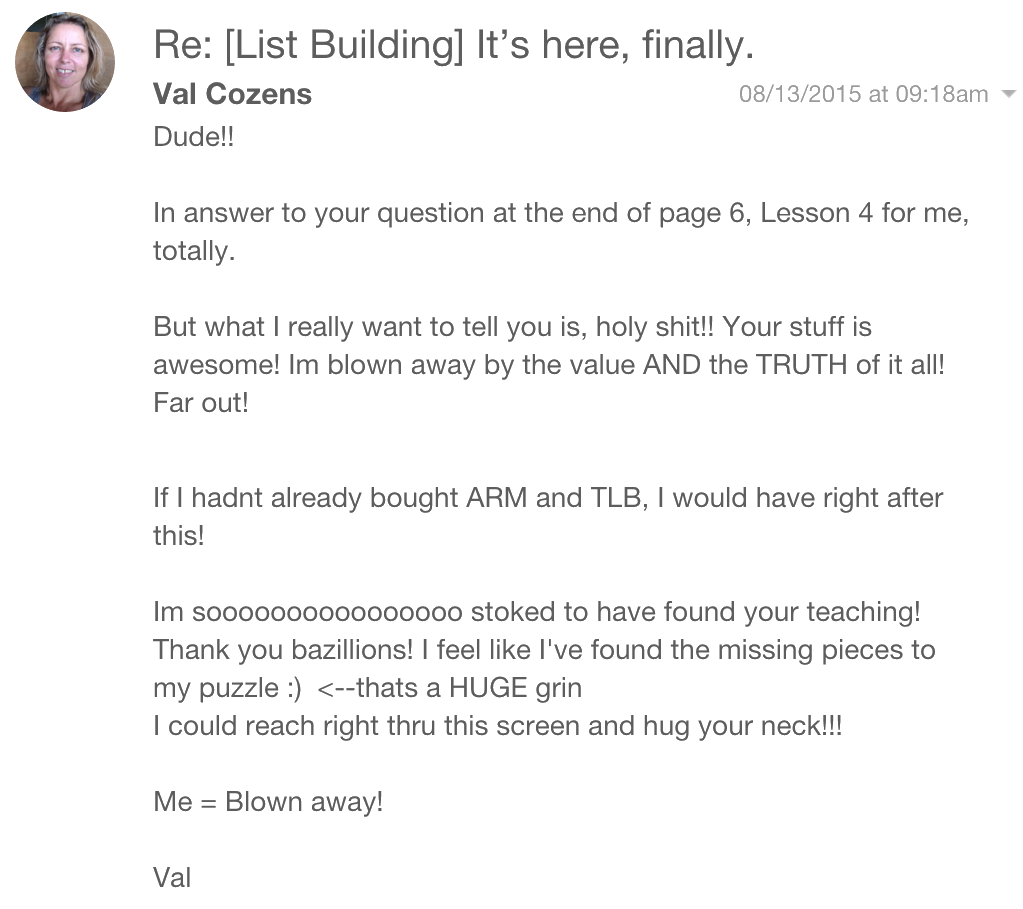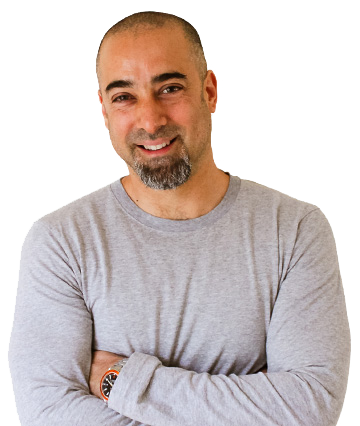 — André Chaperon
P.S.
Btw, quick question…
"The money is in the list."
You've heard that before, right?
What do you think about that?
Do you think it's true?
Think about it.