Hey, Andre here…

Today I'm focusing in on Step 2 (the conversion system). Your squeeze (lead capture) page.
The conversion system is built on top of what you learned in the previous two emails.
Having a crystal clear idea of who you want to do business with and want to target as a customer, is CRITICAL.
Poor conversions happen when there is a disconnect between what you are saying and what your potential customer wants.
As in how closely your marketing matches their needs.
Most marketers are clueless about WHO they are actually targeting.
When you don't specifically address THEIR emotional needs, their irrational fears, their aspirations—well, then you'll always find it hard work to sell anything.
The conversion system is your opportunity to make an emotional connection with your ideal customer and demonstrate to them that you have the potential to solve their problem.
… that you have the goods.
Lead Capture (Conversion) System
Here are a handful of squeeze page examples:
(I've used screenshots so that the examples remain static for you.)
Some are similar. Some are quite different.
Do they all work?
Absolutely.
Meaning there is no reason why you couldn't model any one of them yourself and have success.
No reason at all.
… that is, so long as you apply the empathy/avatar technique which I taught you a couple of emails ago.
Do that, and you shouldn't have a problem.
However…
There is a caveat (there always is).
I would argue that a lot of lead capture pages (most even) approach list building in a non-efficient way in terms of attracting only the best prospects.
I call it a forced (or blind) squeeze.
It doesn't deliver any preeminent value upfront (pre-squeeze).
The leap of faith is on the shoulders of the visitor.
Think about that for a second.
Put yourself in the shoes of the visitor…
You have to give up your email address in the hope of receiving something that will be of value to you (or you leave empty handed).
From the prospect's perspective, that's not a scenario loaded in their favor.
Plus there's no filtering out process.
"Here's what I have. Gimme your email address and I'll give ya the carrot."
The key persuasion factors at play here are curiosity and a bribe.
And it pretty much attracts everyone.
… especially people JUST wanting the freebie offer. The carrot. The bribe.
As in low-quality leads (not all, but a lot).
Yes, it works to attract a LOT of signups.
Curiosity works like that.
Bribes too.
And marketers love lots of signups. It's like heroin for them.
Which is why smart people like Ryan Deiss have always used forced/blind squeeze processes.
The vanity numbers of a large list gives them bragging rights. Its a measure of success … perhaps a little ego boost too.
That works for them. Which is cool.
But I prefer not to roll like that.
ZAG when they zig is my MO.
I prefer to demonstrate preeminence BEFORE I ever ask for anything in return.
I put my chops on the line right upfront.
I give 'em stuff they can sink their teeth into … PRE-SQUEEZE.
Some marketers choose to use video.
Others (like me) plain text.
Some a combo of both.
Neither is better, or worse than the other. That's not the point here.
The point is … your ability to create real value upfront will allow you to ATTRACT the best prospects.
It will also give you the ability to "filter out" those people who you just don't want to do business with.
I call this approach the Preeminence Squeeze.
Some examples:
Sphere of Influence MPPS (Multi-Page Presell Site)
(Look at the three sites above in terms of delivering preeminent value.)
Ben Cummings, ChiroBully:
http://goo.gl/khfzx (Eban Pagan)
http://goo.gl/b0RmX (Mindvalley)
Notice how the lead capture process is turned on its head.
It's not a "thin" squeeze completely built around curiosity and a bribe.
I have nothing against curiosity per se. I use it a lot myself. Bribes have their place too (when used cleverly).
But when the entire process is built on nothing but curiosity to get my big FREE bribe thingy … well, that's not a great foundation for attracting the BEST prospects.
I'm going to end this email with a scenario.
I think it'll (emotionally) demonstrate to you the best process for converting prospects into customers and customers into raving fans.
For this example to have the best effect on you, put YOURSELF in the shoes of the searcher, OK?
<start example>
You (that's YOU) have a desperate problem you're trying to solve (insert emotional problem here).
You go to Google or Bing or Yahoo! and you type in a number of search queries in an attempt to uncover a potential solution to your problem.
You spend ages clicking on results (paid and free). But all you find are badly written articles surrounded by blocks of ads (AdSense).
… or you find forced squeeze pages like I mentioned in the beginning of this email.
You bite the bullet and signup to one of these.
The "lead magnet" ends up being nothing more than a video sales letter.
Following me so far? … remember, in this example, YOU are the visitor.
You move on.
No way you're going to buy from that person.
Clearly they don't "get" you.
Next you land on a video squeeze page. But you can't watch the video until you opt-in.
Brilliant.
So this time you enter in a bogus mailinator.com or sneakemail.com email address.
The 45 minute "free presentation" turns out to be nothing more than a low-value drawn out sales pitch for a $197 "magic pill" solution.
You're getting despondent (and angry) now.
Everyone seems so quick to SELL their solution to you. But you don't KNOW, LIKE, or TRUST any of them (not yet anyway).
Not one has even attempted to understand you a little more deeply.
No empathy.
No rapport.
No relationship.
No jack shit.
You do one last search.
You land on a website.
It's COMPLETELY DIFFERENT to all the rest.
It's full of (amazing) content.
You read it.
It seems to PULL you along. It explains a quick method you can use to relieve some of the emotional pain you're experiencing.
You don't even need to try this technique to know that it'll work.
You already feel as though you're moving closer to solving your problem.
The author knows their shit. That's crystal clear.
They "get" you.
No question about that.
He uses words and language that mean something to you. You can feel a connection. This person clearly empathizes with your unique issue.
The content finally ends.
But you want more of it.
You don't want this experience to end.
For the first time you feel you're closer to finding a solution than you've ever been before.
You're not forced to opt-in.
There's no bribe.
But the dynamics have somehow changed. Because you WANT to opt-in for more.
So you eagerly give up your real email address.
You get an email from the dude. But instead of a "sales pitch" he starts to tell a story.
The story engages you.
It moves you.
You can feel the story building up to a climax.
Before you know it you're at the end of a 1,100 word email … yet it didn't "feel" long at all.
It ended on a cliffhanger. WTF!
He says he'll hit you up tomorrow to finish the story.
He's STILL not sold you squat. Yet you can feel that you're getting closer to a solution.
Better yet, you feel understood.
Amazing. Even strange.
Next day, right on queue, another email hits your inbox.
You drop everything, open it, and read every damn world.
No links. Nothing to buy.
You FEEL a level of trust and rapport being established.
You know at some point he'll prob'ly offer to sell you something. This is a business. You understand this. But instead of dreading that inevitable moment …
… you're looking forward to it.
You're ANTICIPATING it.
You want it to come now.
Finally on email #3 he offers up his solution for sale. It's not a hard sell either (strange, but nice).
The decision to buy is a no brainer.
Click. Buy.
</end example>
Hope that was helpful.
One last thing before I sign-off…
I (personally) prefer my Preeminence Squeeze process to the "Forced Squeeze" setup.
I want smaller, more tightly-focused lists.
I prefer to earn $200K from a tiny list of 2,000 subscribers…
… than $200K from a monster list of 70K subscribers.
The end result is similar.
Both approaches WILL build a list of people that'll eventually buy stuff and make you money.
The big problem with the forced (wide) approach to list building is that it typically attracts a far wider segment of people onto an email list (on purpose).
… and a lot of 'em people are inevitably people that will just NEVER buy. Freeloaders, tyre kickers, wrong kind of person altogether. Whatever.
It's not a focused approach.
… but yes, it does still work.
You choose. Ball is in your court.
Just don't do nothing. That's the worst approach bar none.
Rock on!
Andre "tiny list expert" Chaperon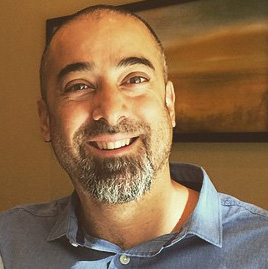 P.S.
Everything that happens AFTER the opt-in process is covered in beautiful detail within ARM:
We've since moved ARM over to this website:
The point I'm trying to make is that, when your marketing is super targeted and in-tune with the needs of your audience…
… you really don't need to FORCE people to join your list (or to buy).
You do that by demonstrating value upfront before asking for anything in return.
You then create a barrier-to-entry. An opportunity for them to get more from you.
My Affiliate Bully site is an extreme example of that:
https://affiliatebully.com (offline at the moment while I update it)
Writing that much content can seem like a lot of hard work. And it is. No two ways about it.
But it really doesn't need to be long.
Take a look at this example:
https://tinylittlebusinesses.com/email/
Way shorter. It also doesn't look like the typical "squeeze page" you see everywhere else.
That's on purpose. Part of my positioning.
The opt-in rate on that page is at 40.3% as I write this.
That's from cold traffic.
And the copy I wrote for that site is still iteration 1 (as in I've not tightened it up and optimized it since writing it).
The opt-in rate on affiliatebully.com is between 70-85% (of people that land on the squeeze page).
… and that's WITHOUT a bribe.
My "lead magnet" is my pre-squeeze content.
The only reason the conversion rate so high is because:
I've tightly focused the copy around the customers that I want to attract (based on my Frank and Matt avatars).
I establish preeminence by demonstrating (amazing) value upfront without asking for anything in return.
Read: everything is loaded in the visitors favor. Not mine.
This builds trust and rapport (very quickly).
Tomorrow I'll talk about point 1 on the attached PDF image. Traffic.