Summer 2020 Enrollment Closed
ATTENTION: We're opening our 2020 summer enrollment for Sphere of Influence (SOI) & AutoResponder Madness (ARM) on June 1-8. Although SOI and ARM are separate products, it makes sense to combine both within a single enrollment campaign. The products are very tightly connected.
Below are the details of the enrollment campaign so far.
We think this will resonate with you if you feel a disconnect (dissonance) with how a lot of marketing and promotions are done today. We feel there's a better way. It's led with empathy and transparency.
We hope that by being exposed to this education — all free — you become a better marketer. Enjoy the journey.
Email Archive
Comments (for both SOI & ARM)
Sorry, summer enrollment for SOI & ARM is closed. Our next enrollment will be in Fall.
SPECIAL MESSAGE FROM ANDRÉ
I released the First Edition of ARM back in 2009 as an experiment.
Between 2005 and 2009, I had developed a very different and unique email system that allowed me to rapidly bond with and establish rapport and develop a relationship with audiences who cared to hear from me.
The results I were getting were off the scale (one such weird story here).
Some close friends who I shared early results with, asked what the hell I was doing. So I privately shared the early macro-strategy with them.
It was then that I wondered if anyone else would be interested in learning the system I had developed from over nearly half a decade of operating in-the-trenches across multiple markets.
Hence the experiment in 2009.
I wanted to validate whether people would pay to learn this "weird" email marketing system of mine.
So I limited that first release to 100 copies to test the waters.
It sold out within an hour.
I released the Second Edition about a year later in 2010. That's when Ryan Deiss and Perry Belcher (of Digital Marketer and Traffic & Conversion fame) invested in it:
Ryan loved the system so much that they executed it across their entire 8-figure business, across all their divisions: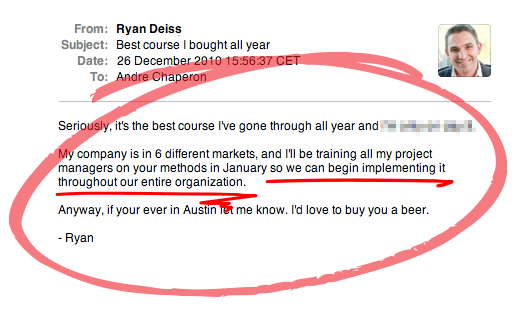 On January 11, 2012, Jeff Walker became a customer. On March 29, 2013, Frank Kern became a customer. By that time we had 1000s of happy customers.
To date, we've had over 10,000 people go through ARM. Success stories are way into the multi-millions of dollars; probably hundreds of millions (note to self: I really should track this stuff better).
The current 3rd Edition has been mostly unchanged for the past five years.
When I first released ARM, the likes of Drip and ConvertKit (and even Infusionsoft) didn't exist. And the services that did, didn't offer the level of sophisticated marketing automation you see today as standard.
I'm working on the long-awaited Forth Edition now.
It'll be ready in a few months (I don't have an ETA, other than releasing it is my primary focus).
Sorry, summer enrollment for ARM is closed. Our
next enrollment
will be in Fall.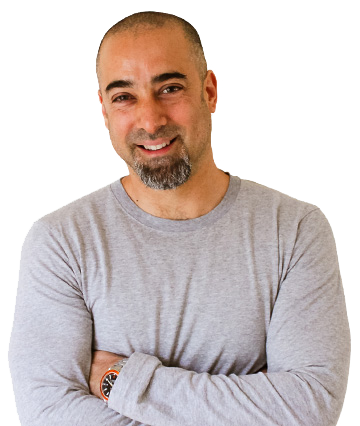 — André Chaperon
P.S.
Below are a few testimonials and then a random sampling of 100s of unsolicited "kudos" I have about AutoResponder Madness that span years: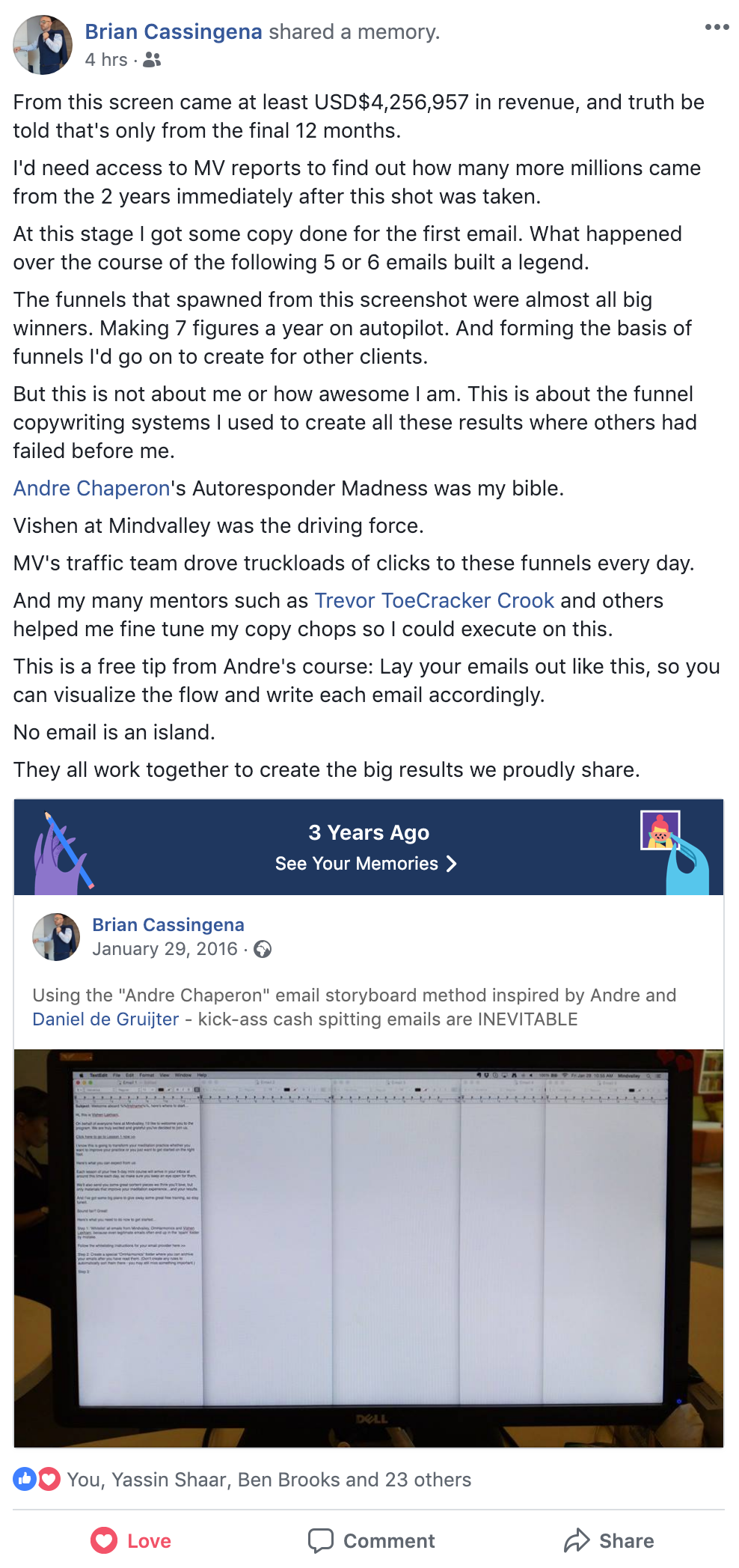 ---
---
Here's an audio of the conversation I had with
Matt Gallant
(after he had been through my email marketing training, ARM):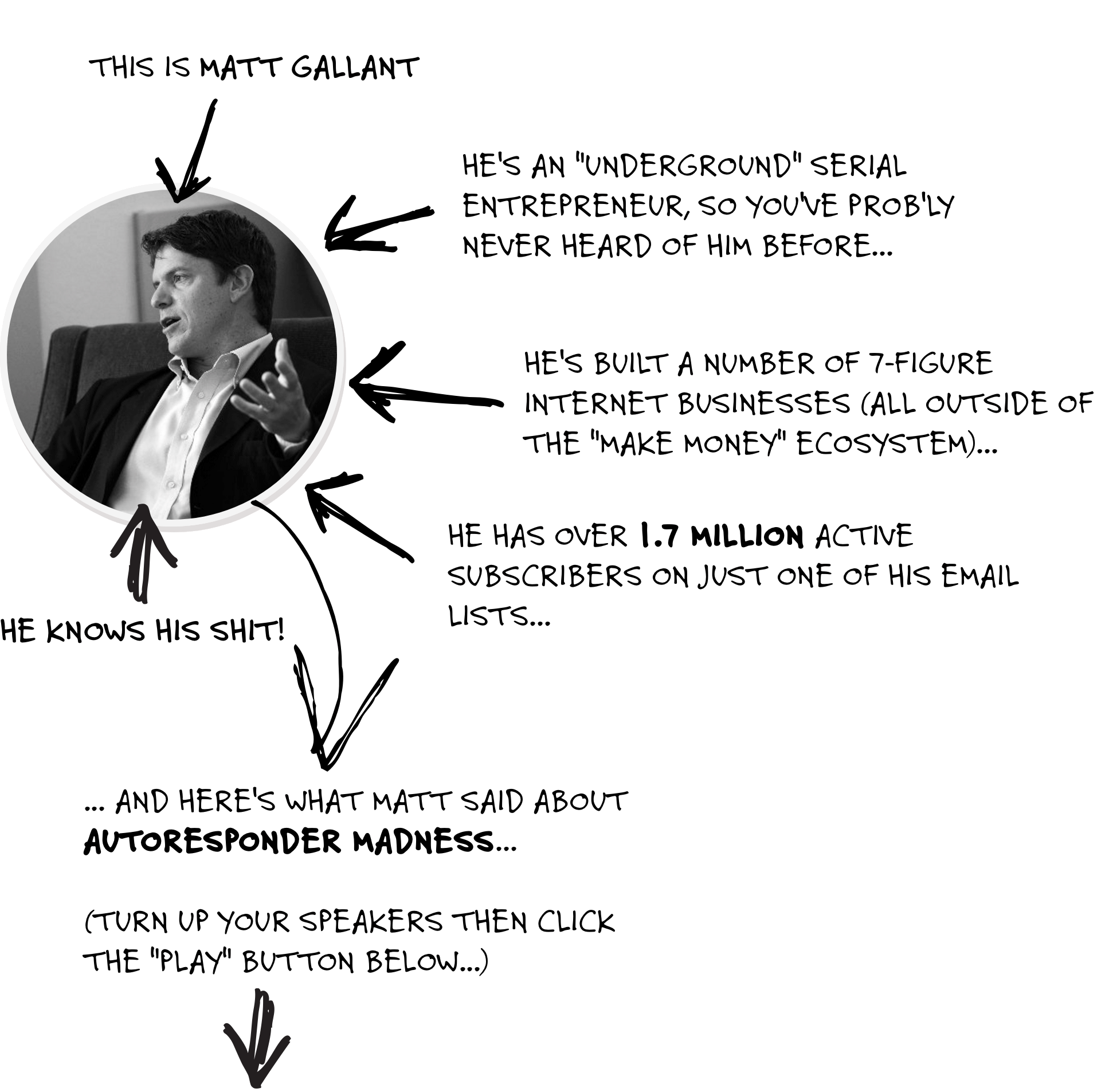 ---
Below is Vishen Lakhiani, founder & CEO of Mindvalley. This was shot at their exclusive Zentrepreneur & AFest event in Punta Cana, Dominican Republic:
---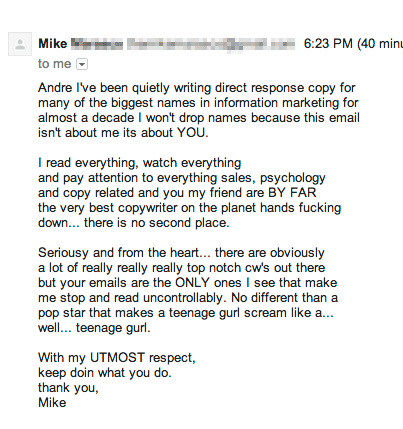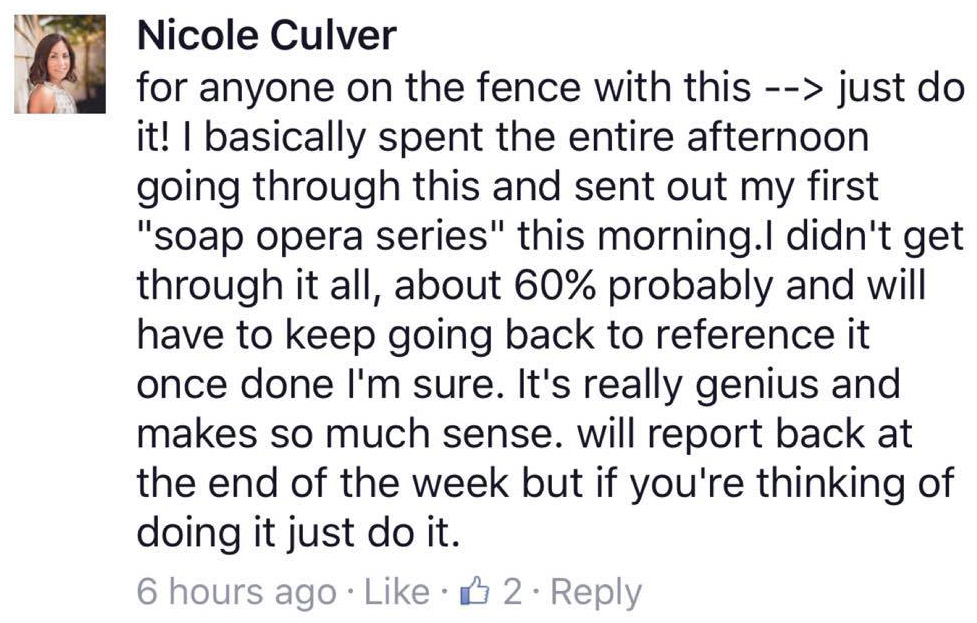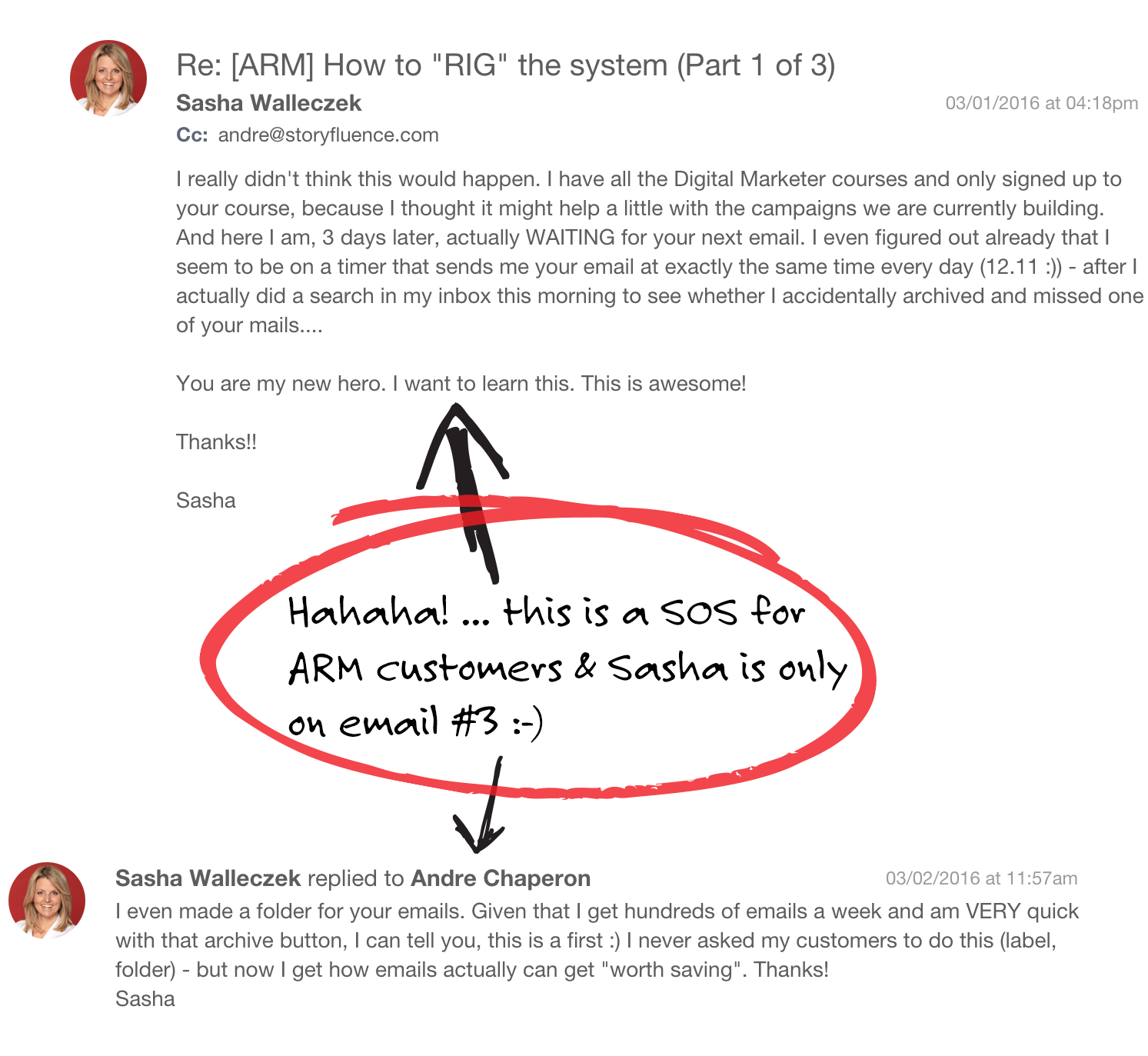 ---
Here's Ryan Deiss live from stage at Traffic & Conversion (2012) talking about what he does to the emails he gets from my autoresponder 🙄
… and here's Perry Belcher live on stage (same T&C) reading a "Soap Opera Sequence" he had written in the Forex market after going through AutoResponder Madness:
---
I teach a unique methodology of using story-based email sequences to talk to (segments of) people in such a way — which is so relevant to them — that even when you promote something, they THANK YOU for sending them the promotion 😎
Some of these responses are below: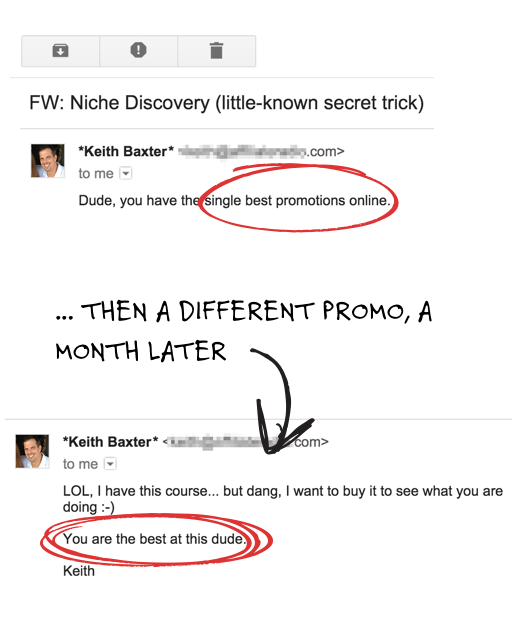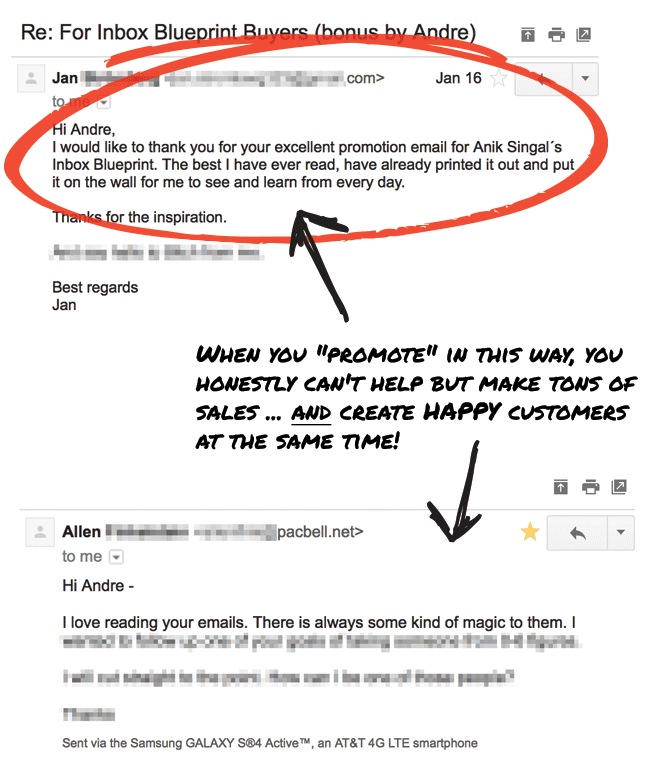 ---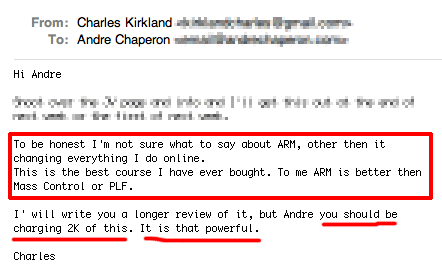 "I consider AutoResponder Madness required reading for EVERY marketer who works under me…"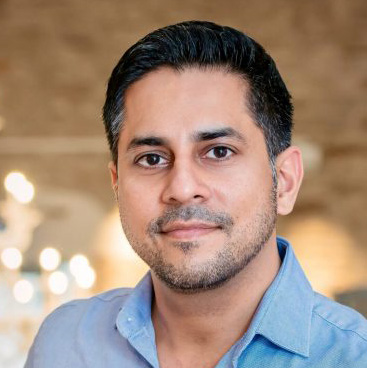 There are only 2 courses I've recommended on Mindvalley Insights in the one year since we launched.
Jeff Walkers Product Launch Formula (an obvious choice) and Andre Chaperon's Autoresponder Madness.
I consider ARM required reading for EVERY marketer who works under me. It's brilliant in its simplicity and powerful in terms of the results I've seen.
— Vishen Lakhiani
Founder & CEO, Mindvalley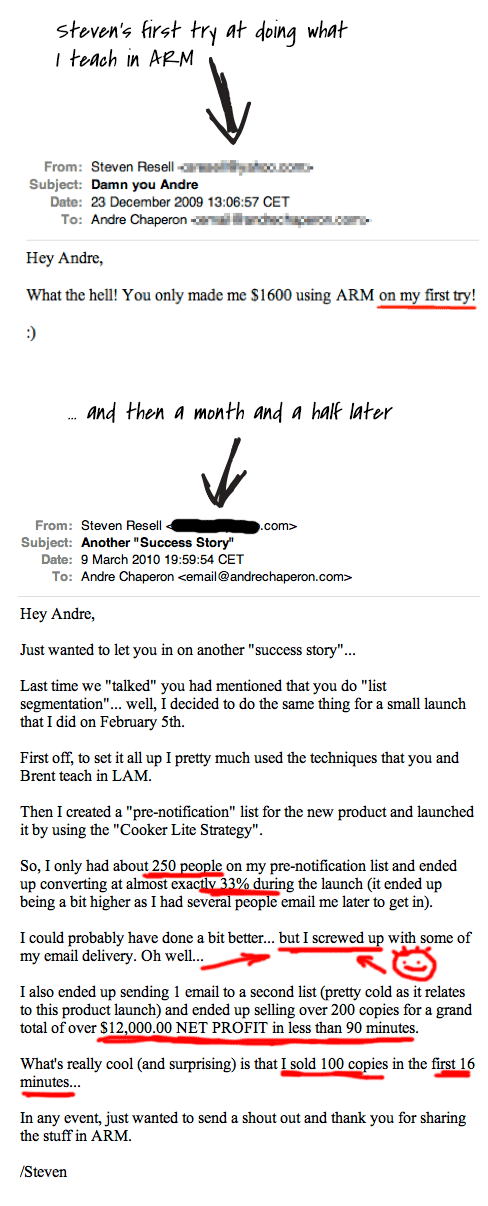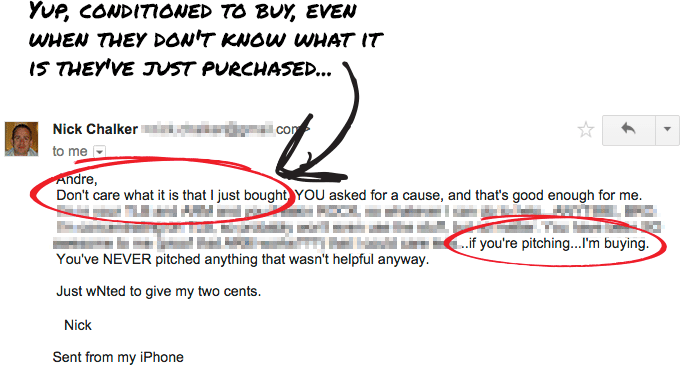 "To do well with FB ads, you MUST send your leads into a funnel built on Andre's process…"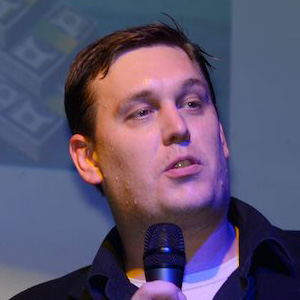 I have personally spent over $4 million in Facebook ads sending traffic into sales funnels built around Andre's methods.
If you really want to do well with FB ads, you MUST send your leads into a funnel built around Andre's proven follow-up process.
–Curt Maly
(One of world's leading experts on Facebook advertising.)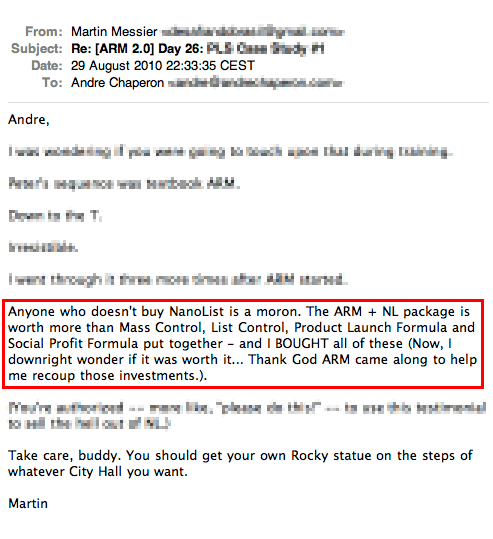 And in some cases, even multi-millions, like when the folks over at Agora (a BILLION dollar a year digital publishing empire) got a hold of AutoResponder Madness and put it to immediate use:
"After reading Andre's course, we completely rewrote all of our autoresponder emails."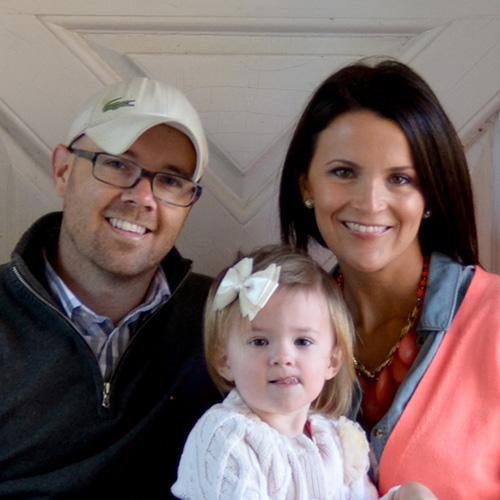 We all know the most exciting time of any relationship is the very beginning. Yet we often forget to focus on that critical time. Andre's AutoResponder Madness course changes that forever.
After reading Andre's course, we completely rewrote all of our autoresponder emails — using Andre's serialized story-driven email telling secrets as a blueprint.
Not only did we see higher sales, but we saw sustained higher open rates as well… with our readers writing back to us wanting more, more, more.
If you're looking to improve sales, build relationships that stick, and engage your audience with magnetic entertainment, you must pay attention to what Andre says.
— Joe Schriefer
Publisher, Agora Financial
For the record, I wasn't at Traffic & Conversion Summit in 2012 (hmm … come to think of it, I've still never been and it's 2020 now).
So it was a complete surprise when they endorsed ARM from stage. I knew something funky was up when some friends emailed me: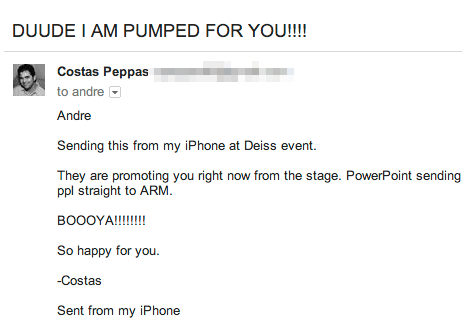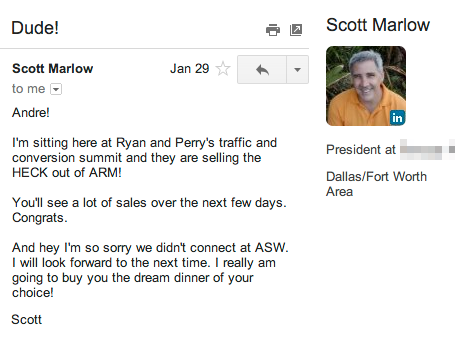 Then a few days later, my buddy Seth hit me up: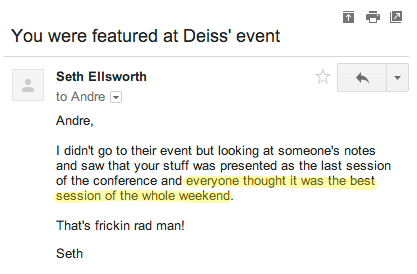 "Andre's System Has Added Hundreds Of Thousands of Dollars To My Bottom Line!"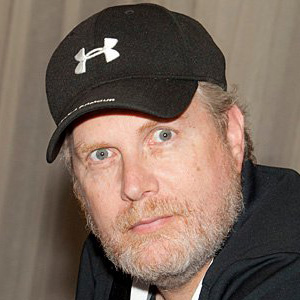 When I first heard of Andre's AutoResponder Madness (ARM) system, I was annoyed. After all, what could a big famous copywriter like me learn about writing emails. After all, I was the expert.
Intermission: Time for me to eat humble pie.
After going through ARM I immediately saw the brilliance in it and began using it right away. Over the years, it has added hundreds of thousands of dollars to my bottom line.
The opportunity to be personally trained by the person who created the system should not be missed.
–Dr. Harlan Kilstein
Direct Response Copywriter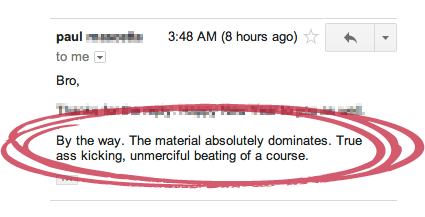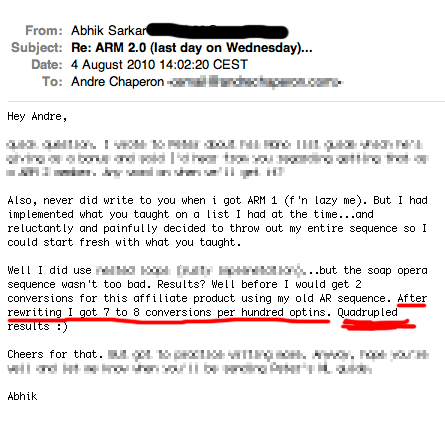 Below is a thread I found on the Warrior Forum. Someone was asking for customer feedback on AutoResponder Madness: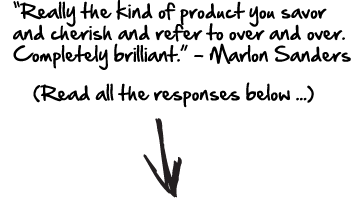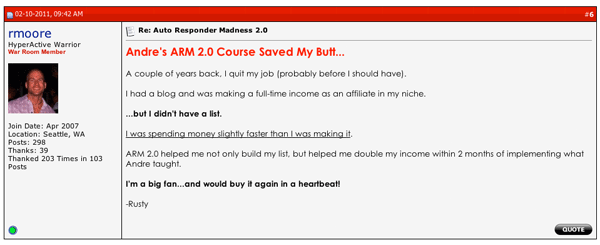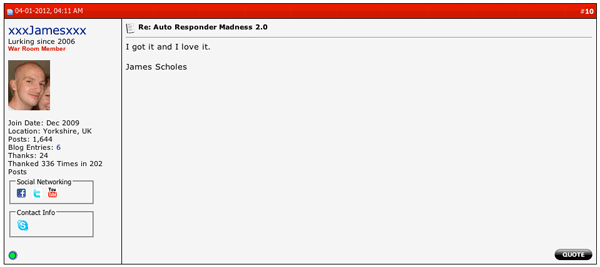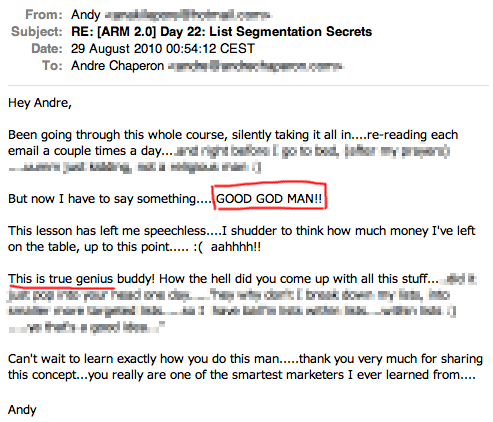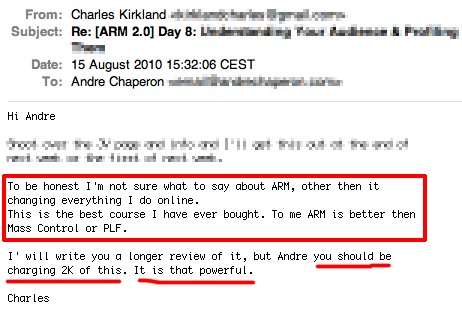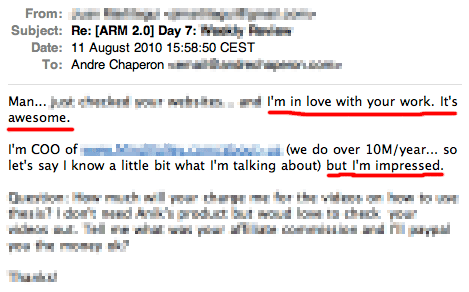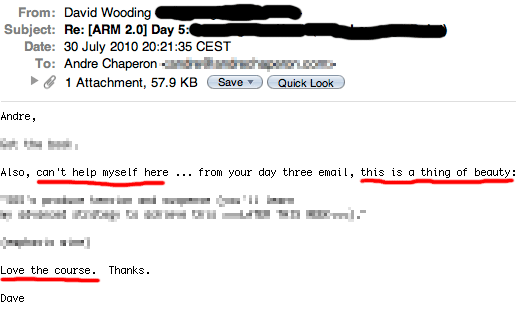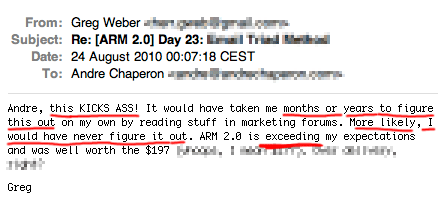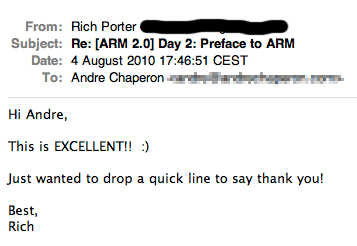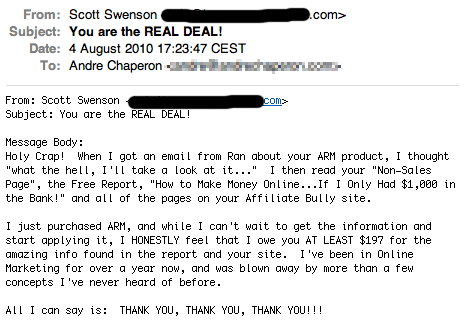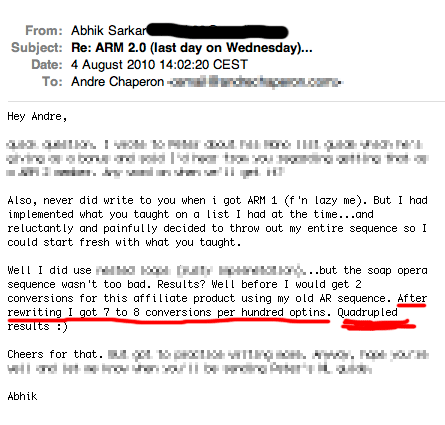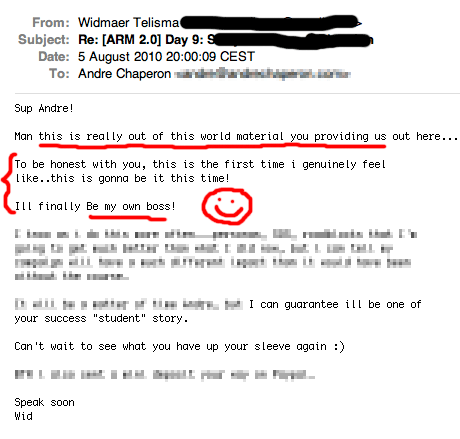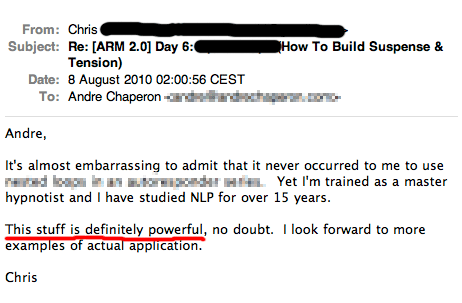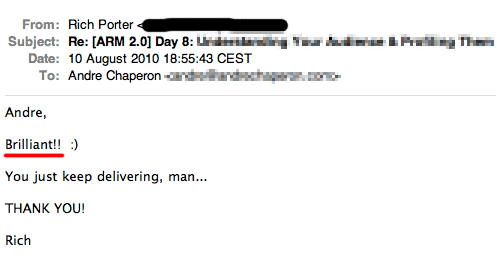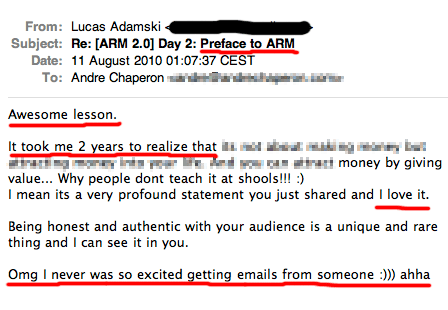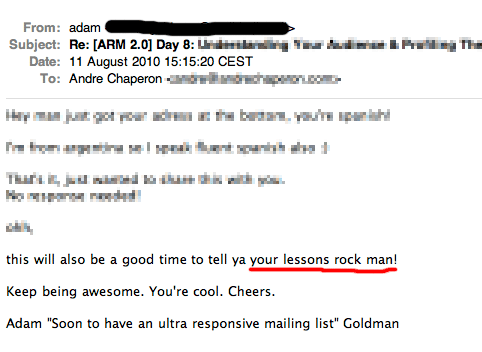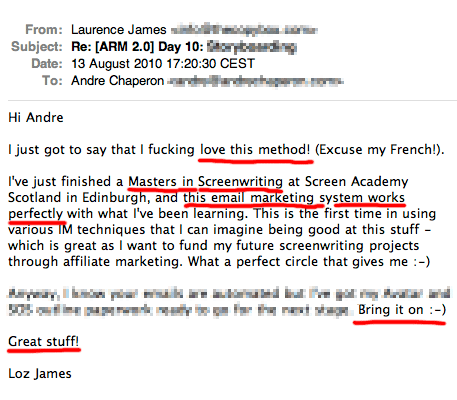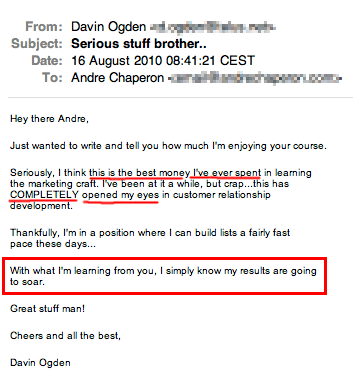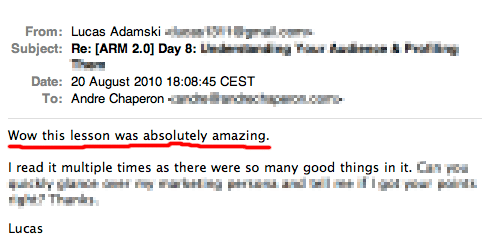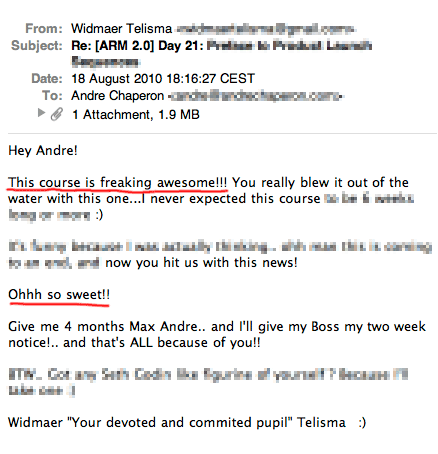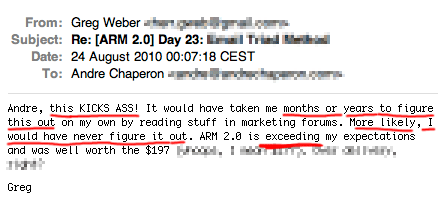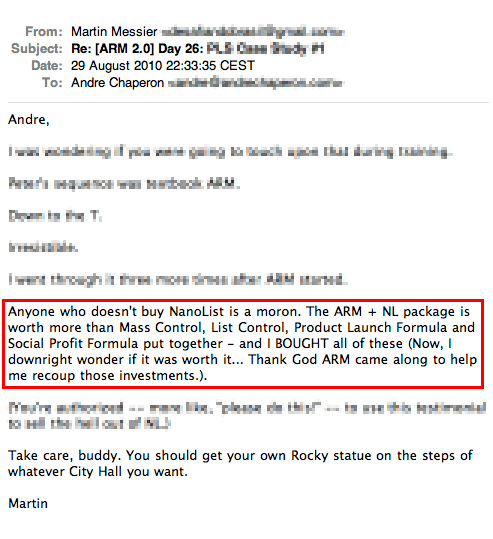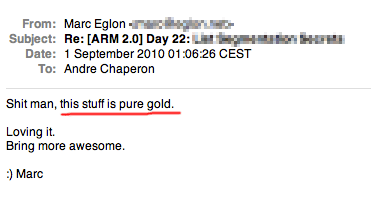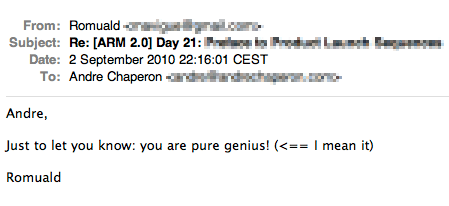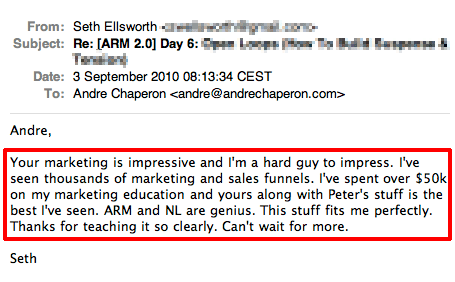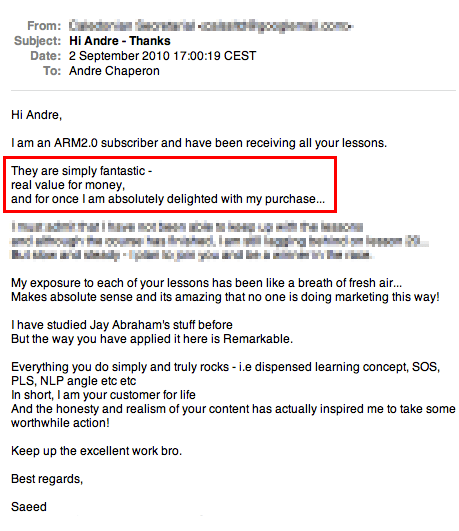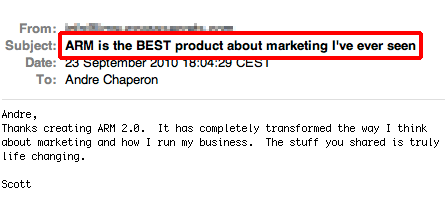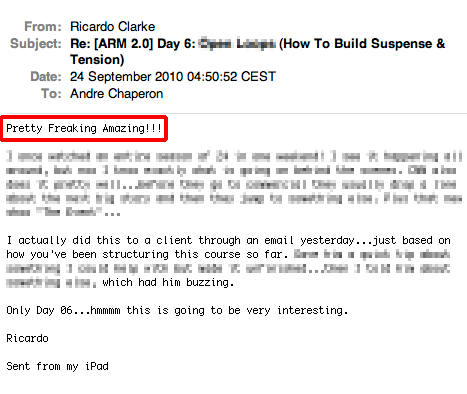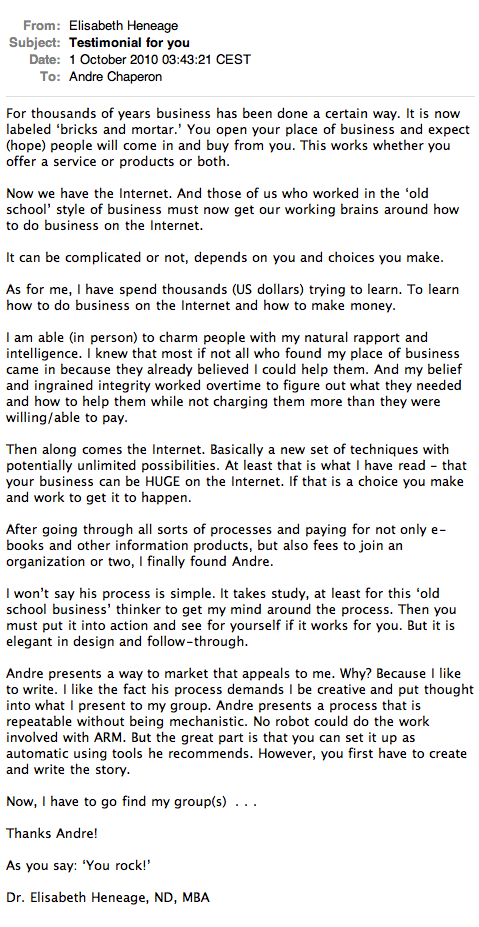 "When I first tried Andre's strategies on a tiny "test" list of 70 people, I got 37 sales!"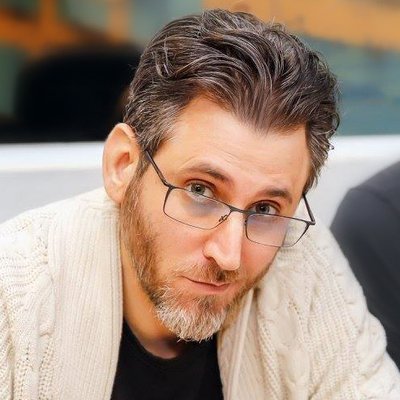 There are different ways to do make money from email lists, but Andre's is the only one that doesn't require you to have a huge "guru" list.
I'm constantly being able to get to top spots on the leaderboards of major product launches … and my list size is nowhere near the size of other names' on those lists.
There's no one else I would take advice from when it comes to autoresponders, other than Andre — his stuff is hypnotic.
— Ran Aroussi
aroussi.com
---
"Don't make the mistake of thinking ARM is just another email marketing course — it's much more than that!"

It teaches you how to really understand your customer, and how to use that knowledge to weave stories that will prove to be irresistible to your customers.
If you want to learn a way to really engage with your audience, so that they literally beg to buy stuff from you, ARM is the right course for you.
Despite what you probably see in your email inbox every day, internet marketing is rapidly moving away from the old-school, in-your-face, pressure-selling direct marketing techniques.
If you don't want to get left behind, I suggest you invest in ARM — you won't regret it!
–Gary Booth