"… again, buy the damn André Chaperon course, it is the best thing you'll ever buy if you're going to send emails." — Perry Belcher
If you send email, you'll find this page very important. Read this entire page because I'm going to give you a secret. I'm also going to give you the opportunity to enroll into ARM2 for free, no catches.
Some backstory first:
Almost a decade ago, on July 23, 2010, I released ARM2—the 2nd Edition of AutoResponder Madness.
In the following three years, around 5,000 peeps purchased ARM2, including heavy hitters like Jeff Walker, Frank Kern, Russell Brunson, Perry Belcher, and Ryan Deiss.
Ryan and Perry even retooled Digital Marketer's entire email system after going through ARM2 back in 2010.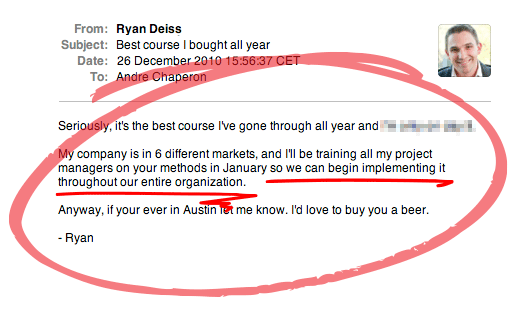 Here is Ryan Deiss & Perry Belcher of Digital Marketer talking about AutoResponder Madness (2nd Edition) from stage at their Traffic & Conversion Summit 2012.
(At the time I had no idea about this. I was 5,152 miles away in Marbella, Spain.)
The course that Perry was referring to was AutoResponder Madness (the 2nd Edition).
"… it's the only way to write emails I've ever seen in my life where your open rates of your list will actually go up progressively the longer you run it." — Perry Belcher
If you're wondering if an email marketing course I created ten years ago is still RELEVANT today, that's a valid concern.
Well, 95% of that course is still completely relevant today.
Weird, right?
Perhaps.
But not to the over 10,000 peeps who have been through any of the releases of ARM since 2009.
ARM2 teaches a holistic macro-strategy, based on principles, not hacks and loopholes.
Meaning: because ARM2 is not a tactics-focused course, what I teach in it is evergreen. There is no expiration date.
What you'll learn in ARM2, you can apply today and you'll see amazing results. No question.
I've decided to re-release ARM2, and I have made it completely free to enroll. 🥳
Why?
The latest 4th Edition of ARM is a few months from release, so I thought re-releasing ARM2 (for free) would make for an ideal win-win scenario.
Selfishly: I want to get ARM in the hands of as many email marketers as possible because I know firsthand the meaningful contribution it has made (and consequently, to the people they serve).
Having a free version of a course that used to be paid, and a paid version (the upcoming 4th Edition) for those people who are serious about taking their email marketing to the next level, ticks all the boxes methinks.
No excuse for someone not being able to benefit from this training.
As I said, win-win.
There is an "art" to making superfans.
Superfans are those people who read all your emails, buy all your courses, and spread the word to their social network of friends without being asked.
Superfans are made. They're earned.
In the beginning, all you have is a stranger on your email list.
Then "stuff happens" that causes that stranger to connect and bond with you, be attracted, move in your direction, resonate with the stuff you say, and the work you put out.
They move from stranger to customer … then something else happens, which can seem almost magical.
Much like when two opposite poles of a magnet come into close orbit with each other. There is an unstoppable attraction, an inevitable pull.
Like this email I received a few weeks ago from a relatively new customer:
In case you missed it, the secret is right there in the email response from Justin.
The art of making superfans is all about relationships.
I unpack the art of doing this in ARM2.
It's all in there.
Yours for free, if you're willing to change how you think about email.
If this resonates with you, and you want to go down this rabbit hole, click the button below to enroll in ARM2:
IMPORTANT: ARM2 is delivered as email lesson over four weeks (Monday through Friday each week), the exact same delivery mechanism as before.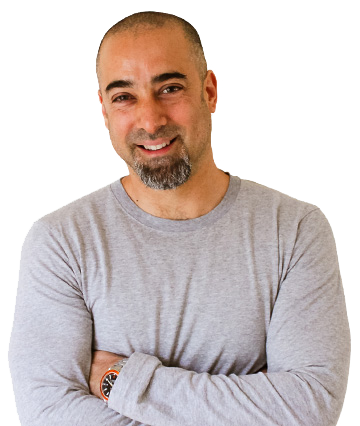 — André Chaperon
P.S.
For fun, I dug up some of the unsolicited emails I received from customers who went through ARM2. I have hundreds of these.
Apologies for all the red highlighting, but these are the original screenshots from a decade ago: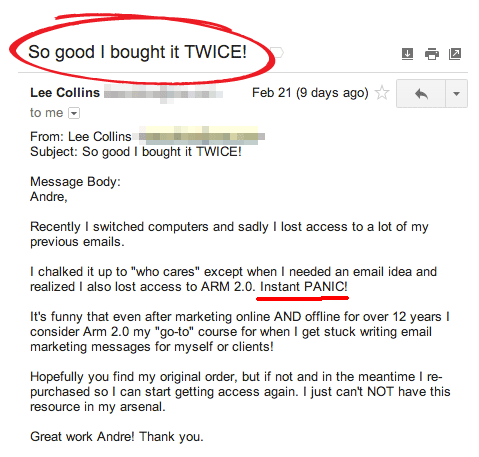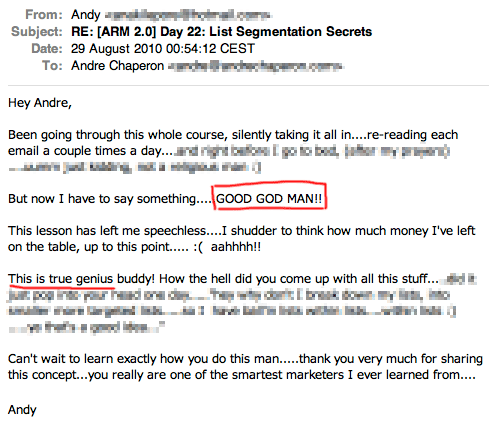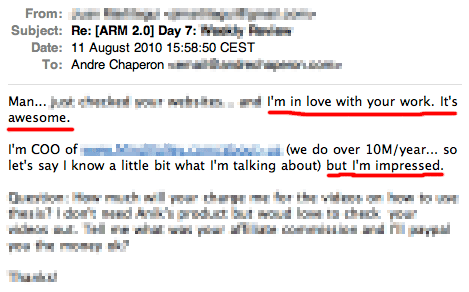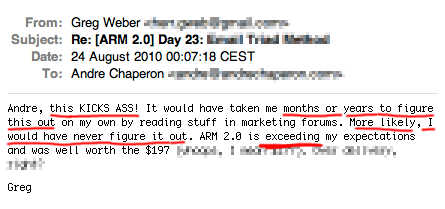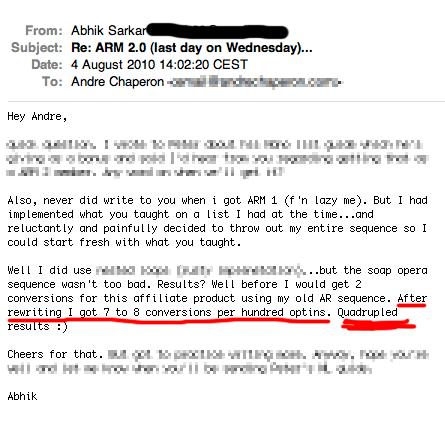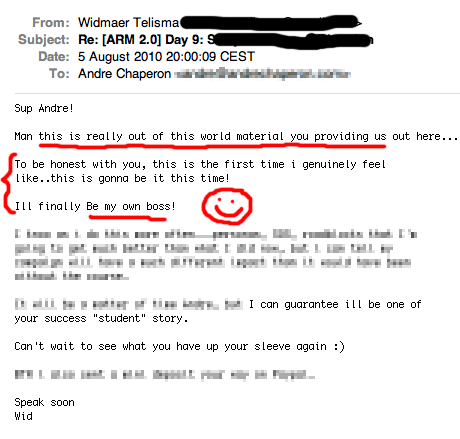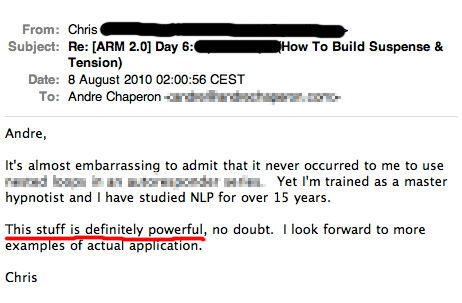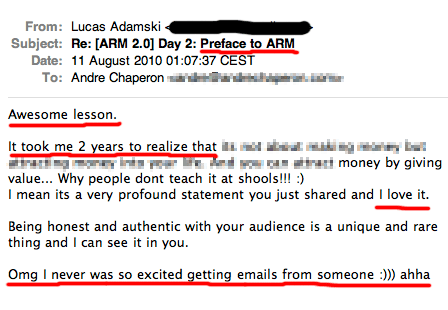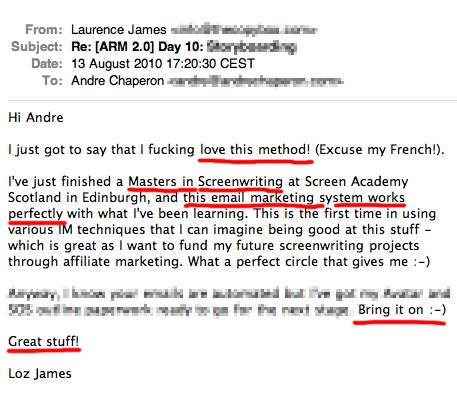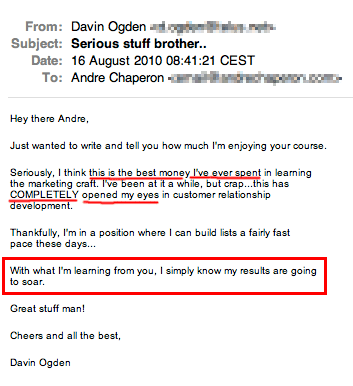 I've not read these in years.
They have put a huge smile on my face. 😎