Well … truth is, I've had a ConvertKit account since April 27, 2013. That was back when ConvertKit was still an unvalidated startup idea with close to zero MRR (monthly recurring revenue):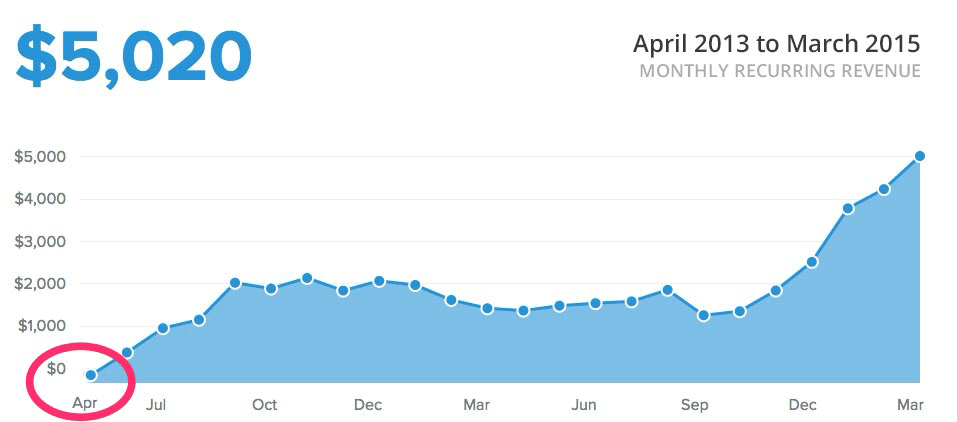 (They're now at $1.27M MRR.)
Why The Move to ConvertKit?
First a short backstory is required:
Back in 2013 I had been chatting to Nathan over email. I loved the idea behind what he was building. I gave him access to ARM, he was kind enough to gift me a lifetime account to ConvertKit (something they only did for a few early accounts when they first launched).
In the end I didn't decide to go "all-in" with ConvertKit, and instead, on August 2014, went with ActiveCampaign (switching from AWeber which I had been using for the past decade).
I liked ActiveCampaign.
It's a powerful CRM. But OMG! … their email editor sucked! It's designed for "beautiful email templates" and not for the kind of lightweight long-form text-based emails I care about sending.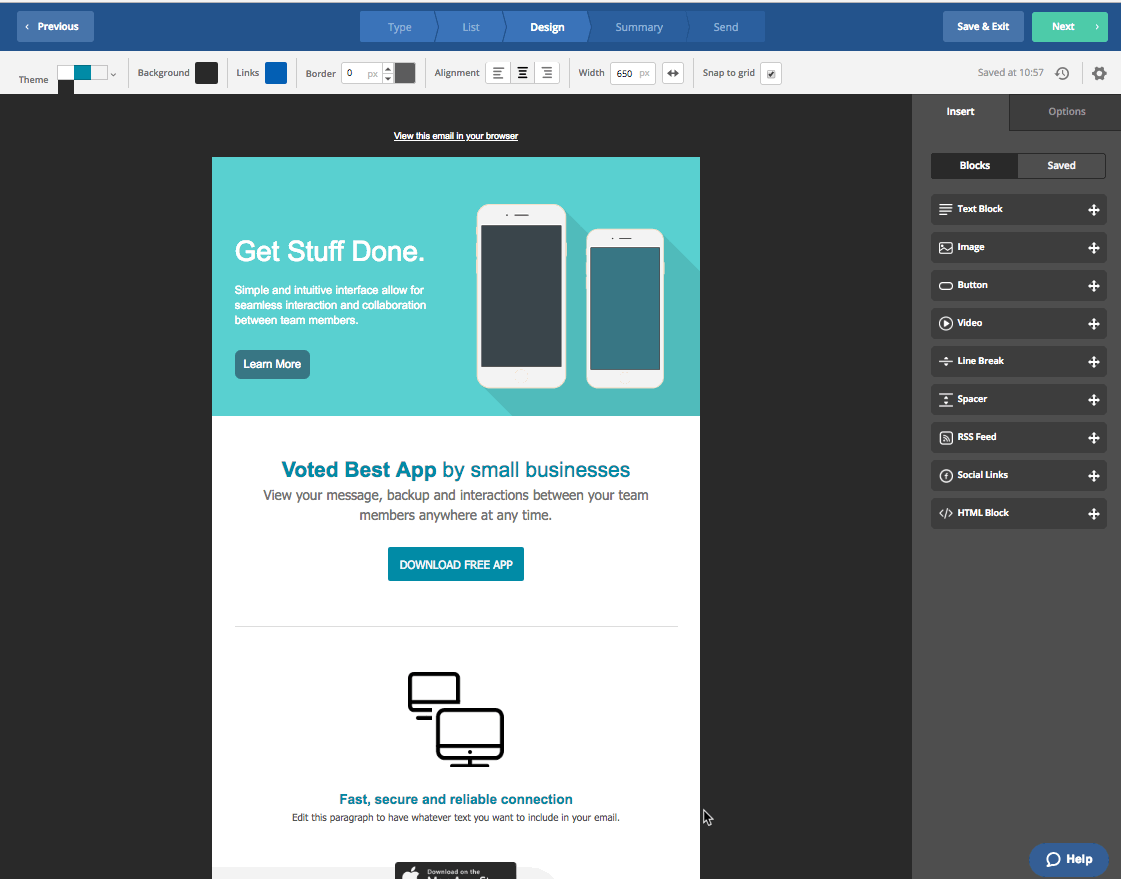 It was terrible (above). It uses content blocks.
The HTML code it generated for "plain text" emails was buggy and often produced "weird" rendering behavior across email clients (Gmail, Yahoo!, Outlook, Apple Mail, etc), desktop and mobile.
I even had a lightweight mobile-responsive email template created for me, but that never worked well in the ActiveCampaign editor because their editor wasn't built for it.
I remember asking Nathan back in 2013:
How have you positioned it [ConvertKit] against what the typical ESPs do?
His response (important part highlighted):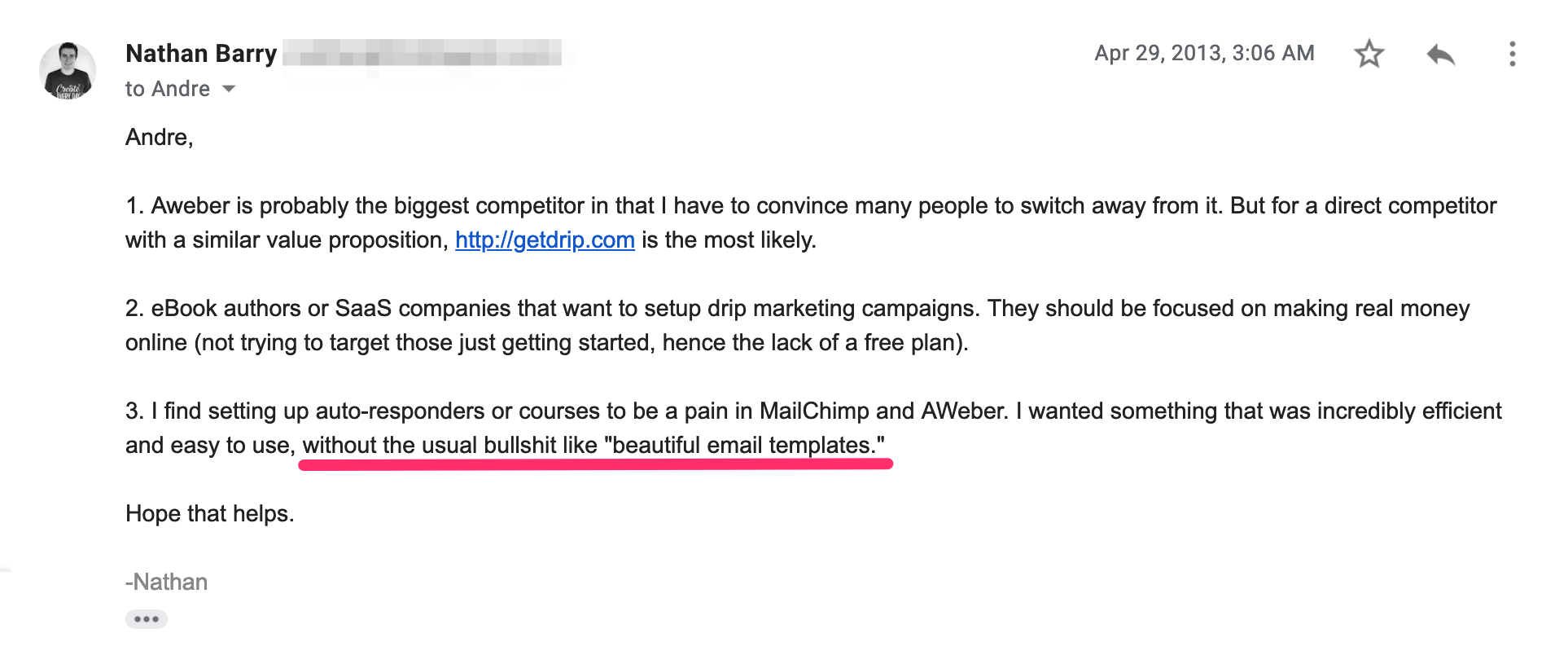 Hahaha! … tell me about it.
In the end, for me, ActiveCampaign's email editor became unworkable for my workflow. It was driving me crazy. I would feel a sense of dread each time I needed to go into ActiveCampaign to write an email.
So in December 2016 I migrated from ActiveCampaign to Drip.
Drip was everything I needed. I loved using it. It felt lightweight, yet packed with geeky features that were both powerful and useful.
During the time between getting frustrated with ActiveCampaign and using Drip as our primary email sender, I kept being pulled back into ConvertKit to see what was new and how their development was progressing.
I would log in, create a campaign, apply some rules (or a visual automation: released in August, 2017), send some test emails, and experiment with different workflows.
Each time I would work to replicate a campaign I was currently running, whether that was in ActiveCampaign, or later in Drip. Each time I wanted to see how close ConvertKit was closing the delta of what it could do, and what I needed.
The gap kept narrowing.
Part of the pull and attraction to ConvertKit was down to what Nathan was building. A movement. I felt a shared sense of values and mission. He cared deeply about serving their primary audience: creators.
My audience.
It's a feeling I've never shared with ActiveCampaign or Drip (or the decade of using AWeber before that).
My perception was that ActiveCampaign felt like a big-ish SaaS company with 100s of staff and offices across different countries. A place with hierarchy and layers of company structure that fit nicely into org charts. Nothing wrong with this of course. But, for me, the experience felt somewhat "corporate-y."
Drip didn't feel that way, which I liked.
But in 2018 I felt that a shift was happening. Maybe their current economic model wasn't working so great, I don't know. I'm only speculating.
What I do know is that they had pivoted to a new (more lucrative for them) customer segment; ECRM (ecommerce customer relationship management).
Their website had a facelift. Their tagline changed to match.
Then, on January 2nd, 2019, they dropped the A-bomb on their customer-funded monthly paying subscribers. There would be a (huge) price hike (with just twelve days notice; nice, very classy!), and their customers were pissed as hell: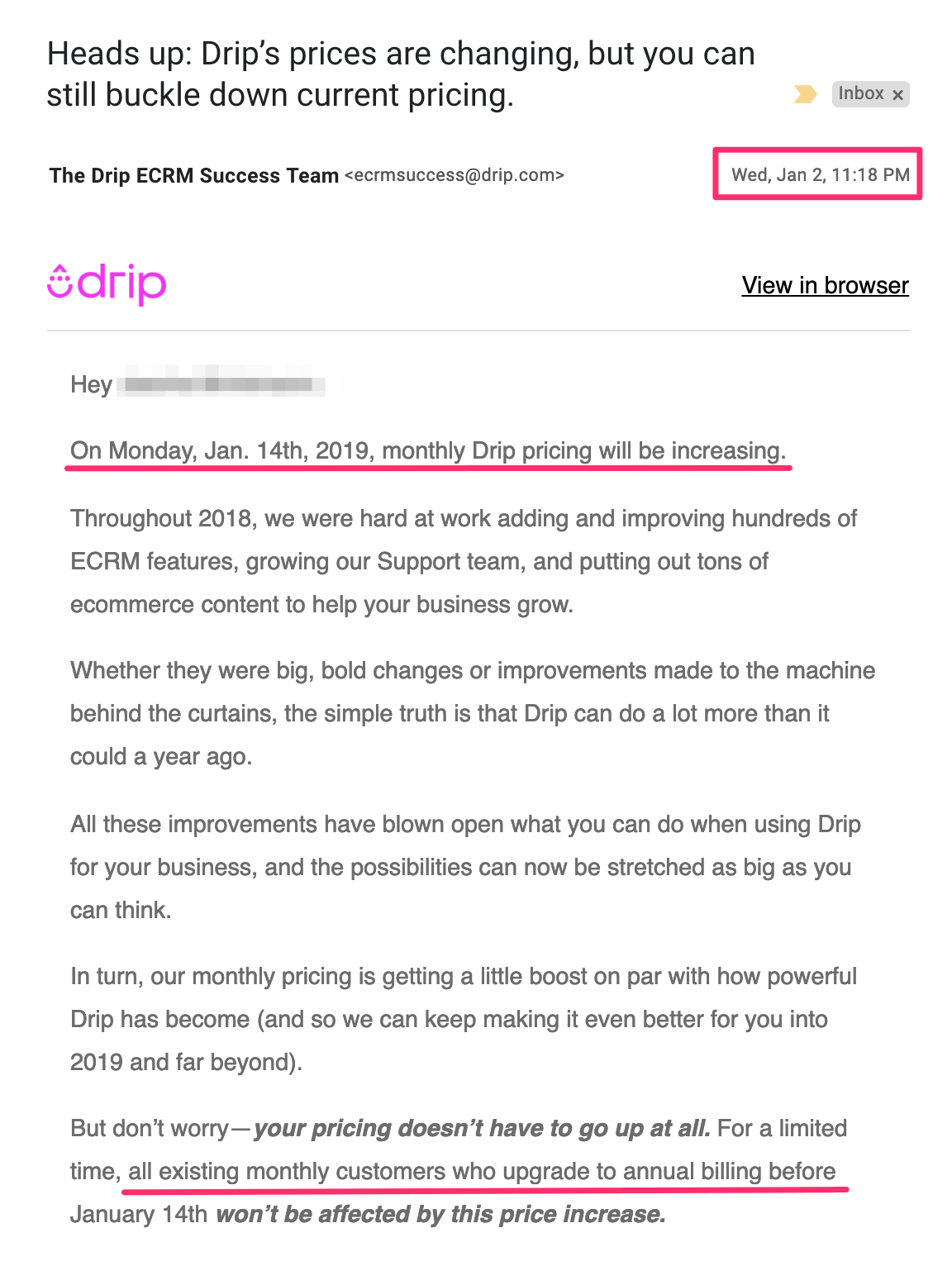 I never saw the email because I was already on yearly billing (due in Sept 2019). But the writing was on the wall. Their intent was clear. Their new customer segment was front-and-center in that email:
Throughout 2018, we were hard at work adding and improving hundreds of ECRM features, growing our Support team, and putting out tons of ecommerce content to help your business grow.
The obvious disconnect for me: I don't have an ecomm business.
And (most of) the people I serve don't either. I'm not part of the "ECRM movement," like the email suggested, and ECRM features are not very useful to us.
If I was paying closer attention I would have seen the shift back in late 2017 when Drip had first made signals to go "all-in" on ecommerce. Customers who don't fit that customer profile are no longer their target market. Simple.
I get it.
They're a business after all. They choose who they serve. I have no hard feelings. Drip is a fine product, and for marketers with an ecommerce business, Drip is perfect.
It just so happened that the timing had been pretty good, all things considered.
Brennan Dunn, a long time Drip supporter and advocate, recently switched from Drip to ConvertKit (for much the same reasons as mine).
For the past year or so I've been trying to get some features I care about adopted at ConvertKit (better support for Liquid within sequences and automations; and better functionally for re/adding people to sequences), with not much success.
Thankfully Brennan knows Nathan better than I do, and because of his own move to CK, has been motivated to also lobby to get these "upgrades" implemented at ConvertKit: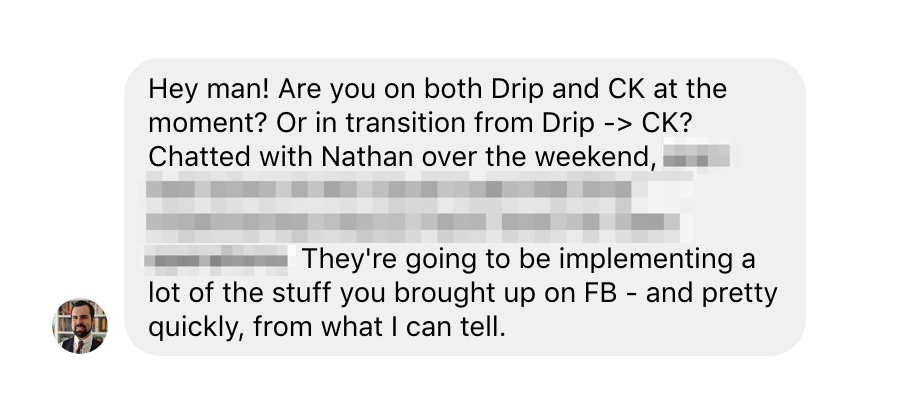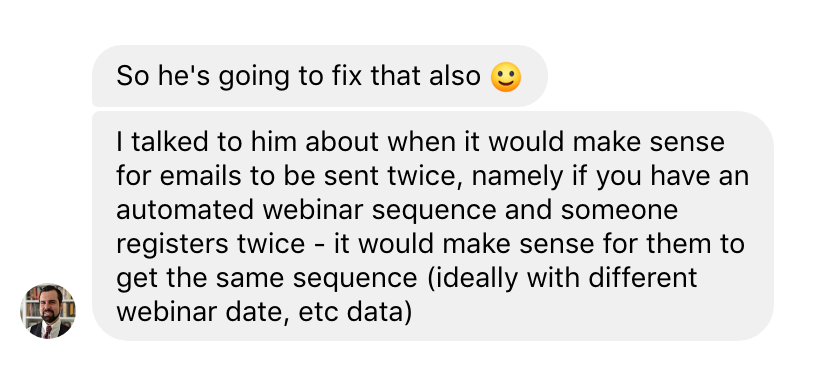 This is why I'm migrating over to ConvertKit from Drip.
Not because Drip is a bad product — for ecomm it's a damn fine product — but because, for creators, ConvertKit is a better fit. In fact, it's a perfect fit.
Creators are who ConvertKit was purpose built for, and it's the audience who Nathan cares deeply about serving and mattering to. I don't see that changing.
ConvertKit: Email marketing made by creators, for creators.
I'm a creator. That's what I do. And I use ConvertKit.
I've signed up for a new paid account. I'm not using the complementary account Nathan gave me back in 2013, as generous as that was, because I care about supporting their movement.
I'm excited to be going "all-in" with CK finally. It feels right, like a five-year journey that's come full circle.
The latest "10 Year Anniversary Edition" of ARM will heavily feature ConvertKit.
What I Love About ConvertKit
Aside from what I've already mentioned above, what I love about CK is the thoughtful simplicity of the service.
They've kept things simple. In the words of Albert Einstein, "Everything should be made as simple as possible, but not simpler."
The UI feels clean and easy to get around. The UX is intuitive. And their new visual automation is a thing of beauty (I prefer it to Drip's implementation).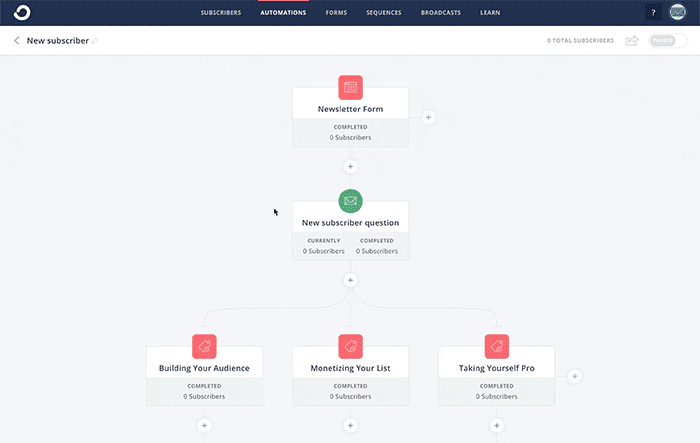 The premise of CK is simple.
And it's this simple premise that has formed the backbone of what I've laid out in AutoResponder Madness for the past decade. It's the one constant that hasn't changed.

In contrast — email editor dislike aside — I feel ActiveCampaign approaches email campaigns really badly. All email campaigns need to be loaded into a visual automations flow, like this:

It's a painful (slow) process that I never enjoyed using. And it doesn't allow for easy adding of emails (to extend a follow-up campaign at a later date).
Drip does this too (with less awkward steps), but they (thankfully) also have a dedicated email campaigns area, specifically designed for email sequences:

Then clicking into a campaign reveals all the emails: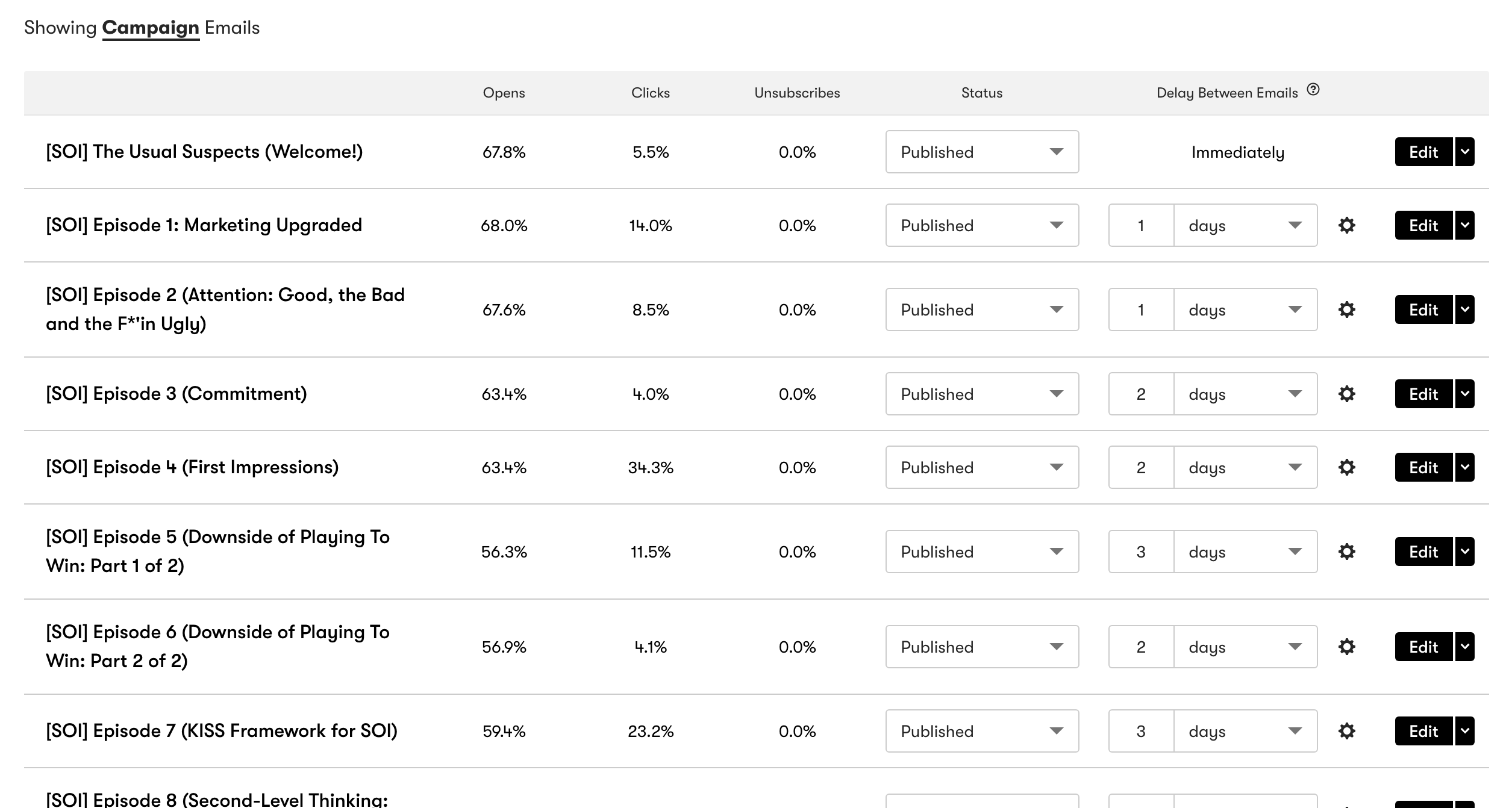 This makes it dead easy to edit and add to an existing follow-up email sequence at any point in the future.
ConvertKit only uses Sequences (much like Campaigns in Drip). Which for the way I build out email sequences, is perfect. It's like CK was built for ARM. Just sayin'.
All emails (bar broadcasts) live in Sequences. It's simple.
Automations are then setup (Event > Action) to tie in behavior. This is where you add or remove people to or from a sequence based on events (tag added or removed for example):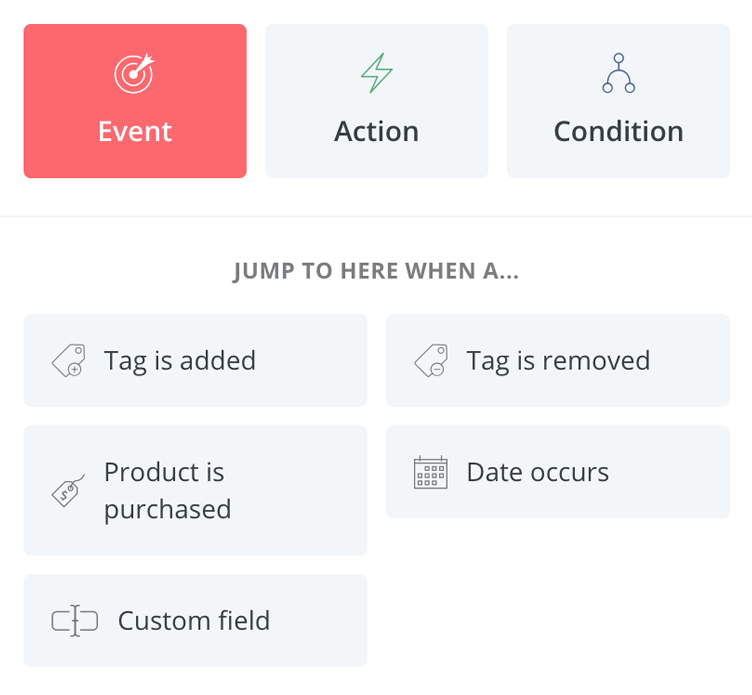 Finally there is a Broadcast area for those "I have something to say right now" emails (most newsletters fall into this category for example):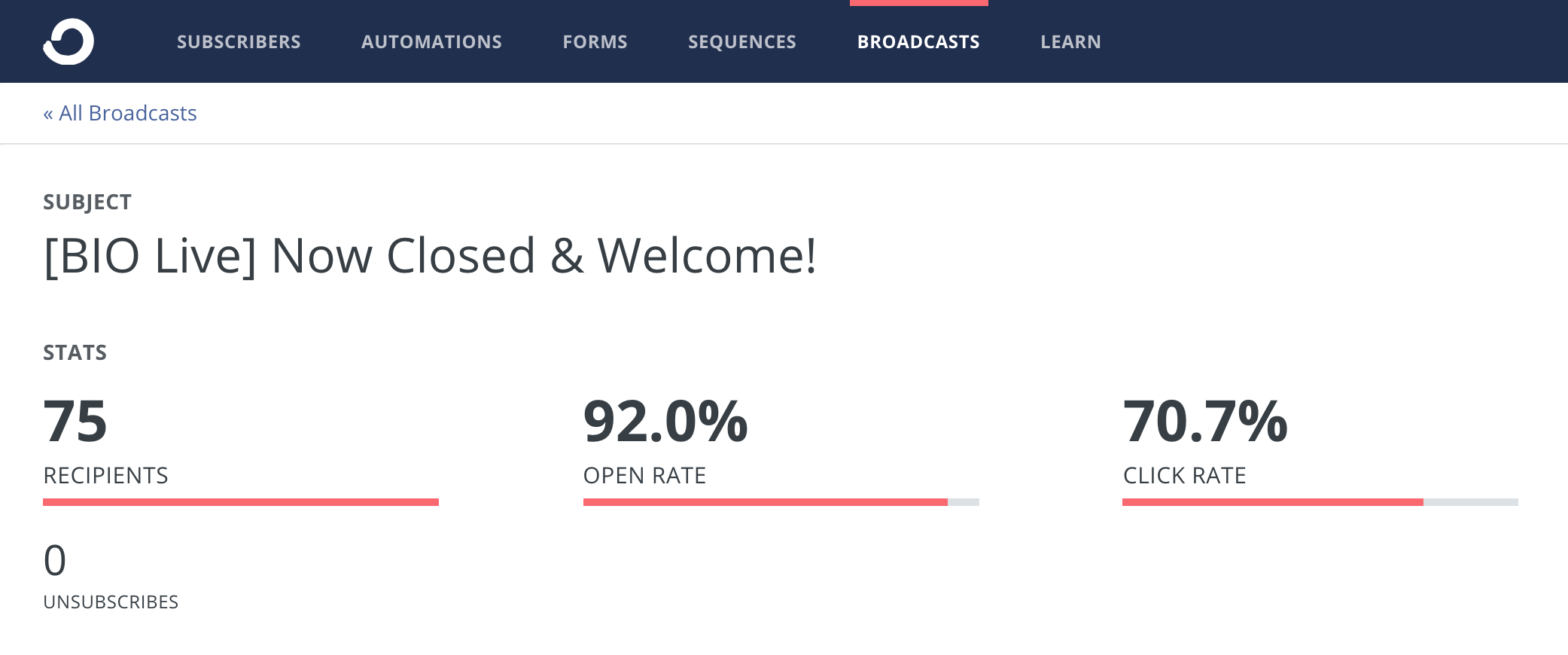 Then there are the "little details," the nuances, which have been so thoughtfully designed and implemented. Nothing seems like an afterthought that was rushed out to tick a "task done" box).
Resend to Unopens
One of the "little details" that I really love is the "Resend to unopens" button. It's a feature you can find on your Broadcasts page (for a sent email).
Drip has a similar feature, but it's executed very differently (their implementation is far less useful imho).
In Drip, you're faced with the "resend this broadcast" option at the end of the broadcast send wizard. It's the final step before the email is sent (it can't be done later after the send):
The "problem" with this may not seem clear, and I guess for many people a mute point. But not for me. These nuances matter (a lot).
First issue (for me) is that I have no context or insights about the email. It haven't yet been sent out after all, right?
I've used this feature from time to time in Drip, but I've always felt a sense of dissonance when using it.
Open rates, after all, aren't a clear-cut exact science.
If an email client is "blocking" image pixels from loading (think ProtonMail), that email will be flagged as "unopened" in the system regardless of if it was read.
For this reason it's a given that a resend to unopens will always hit some inboxes that have already read that email. That's a fact.
In Drip you have two variables to play with. The delay to resend, and the ability to edit the subject line. Hmmm … but not the email; which sucks imho.
In Drip I (typically) prepend [RESEND] to the same subject line. It makes it clear to the recipient that this email is a RESEND of a previous one.
But, without fail, when I've used this feature, I will get some peeps responding with variations of , "Already read this email, André!"
ConvertKit, however, has nailed this (really useful) feature.
Click into any ALREADY SENT email, then click the Resend to unopens button, and you're given the option to edit the actual email (or completely rewrite it by deleting the original and starting again, like below):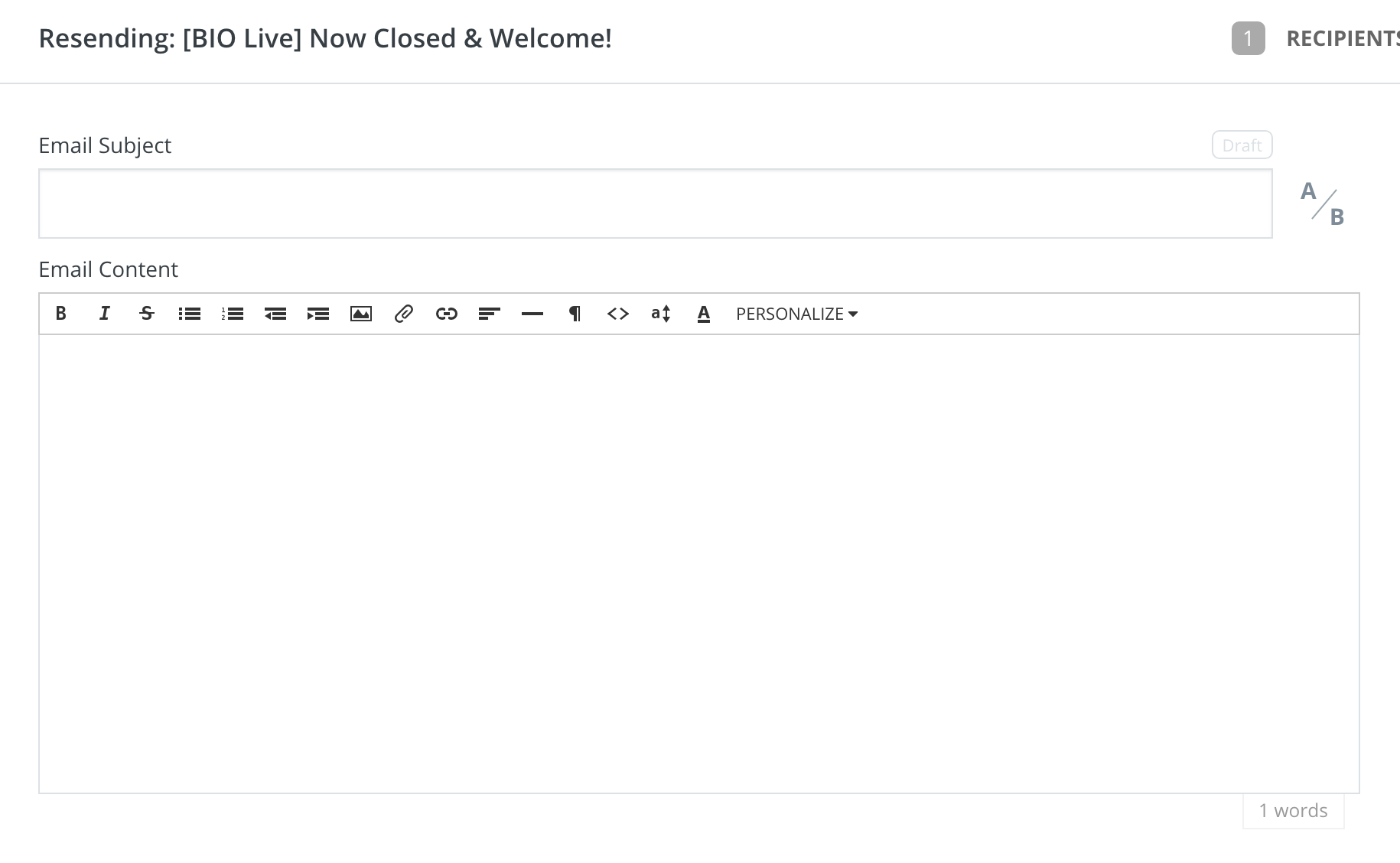 This is beautifully thoughtful.
I can now add context from insights I now have about the sent email.
I typically add some blurb about resends not being perfect, but that erring on the side of caution, I'm resending them the email "just in case," like this:

I've used this example because it's long and overt. Most times my resend blurb is shorter. But long like this works really (really) well. People love it. It demonstrates respect and peeps appreciate this.
ConvertKit is perfect for this, and I love how easy they make it to do this (side note: this can only be performed once per broadcast email).
Conclusion
Anyhoo…
This was only meant to be a quick "update" about why I'm switching from Drip to ConvertKit.
In the coming months, I'll write more articles about how I use ConvertKit as a creator, and how you can too.
EXCLUSIVE BONUS
I'm working on an awesome bonus for peeps who signup to CK through my referral (special free plan here). The bonus is not ready yet, but when it, is I'll send it to everyone on the bonus list.
So far the bonus will include three things:
How to optimize your CK setup for optimal email deliverability,
There are a few little know "power features" built into CK. Some are workflow-based (cleaver ways to do something), and others leverage their use of the Liquid templating system which is baked into CK (to this point: CK are still rolling out fuller support for Liquid, so not all this functionally is available yet).
The custom template I use (which is a modified version of the default CK template).
I'll add other bits to the bonus over time. The bonus will be accessible through our Academy, the same as all our other courses).
IMPORTANT STEPS
Follow these steps to quality for my ConvertKit bonus offer:
Click this link (it's my affiliate link), then signup for a free account (no credit card required).
At this point you'll be recorded as a lead in their system, with me as the referrer.
Referrals are only counted when your credit card has been entered into their system, and charged (either during the free trial period or after).
At this point, contact me, and Heidi will verify that you're listed as a confirmed referral in our affiliate dashboard. She'll then give you access to the bonus (which you'll get as soon as it's ready).
Any questions or issue, lemme know.
— André "ConvertKit love" Chaperon