W
e're not normal. And a buck gets ten, you're far from "normal" too. It's why you're here, reading this page.
Seth Godin calls people like us "the weird". He's one of us, too.
We're weird because we're different; we fall outside of the normal distribution of the bell curve, where the status quo feel comfortable operating. That's not us. We operate at the edges — the fringes.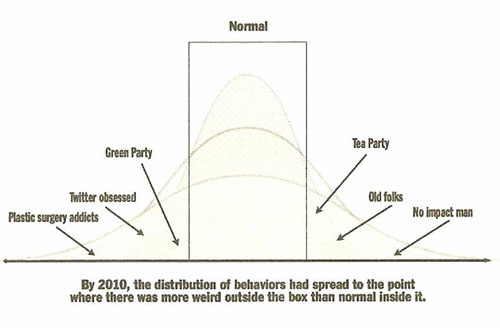 We're not about creating average products for average people (the 'mass' segment). We're obsessed with serving and supporting and mattering to the weirdos of the world (other pockets of people just like us).
You're a weirdo if you give a damn and care about what you do and who you do it for…
In the words of the philosopher Dr. Seuss:
We are all a little weird and life's a little weird, and when we find someone whose weirdness is compatible with ours, we join up with them and fall in mutual weirdness and call it love."
This is why we created TLB TRIBE
E
arning an independent living from serving an audience and mattering to them, is f#cking hard work.
And it can be lonely at times.
Our TRIBE is how we help serve and support our community of weirdos, LONG-TERM.
We're a group of people that have come together because we realized that in order to build something that we care about and which matters to those we serve, we need to quit thinking about it, and actually DO IT.
We can't do our best work in isolation. We all need help from other smart motivated weirdos, who understand us; who are like us.
It's why we created TLB TRIBE.
It's for you. And others like you.
TLB TRIBE will:
help keep your motivation up (and procrastination minimized),
help keep you connected with other smart people like yourself, so you can do your best work, not in isolation,
help grow and scale your business, so you can reach more customers and impact more lives (and earn your freedom as a result),
help you build stuff people actually want (as opposed to what you THINK they want).
What does TLB TRIBE cost?
Good question.
Firstly, we don't see our TRIBE as a "cost" (an expense on your P&L).
That's not what it is.
It's an INVESTMENT. In yourself. Your business.
It's about EXPECTING to earn back multiples when you consistently show up and do the important work. And we're here to help you every step of the way.
We charge $900/yr.
There's no payment plan or monthly subscription.
We charge yearly because we need (no, we EXPECT) your commitment.
Paying once a year frees you up from mentally fixating on the fact that your credit card's is being "dinged" each month (and constantly evaluating the past four weeks).
Building a business online that serves others and supports your freedom, requires hard work and guts. It takes time and commitment. We're playing the long game. We're building an asset.
This is why we charge once per year.
We're committed to helping you; but we EXPECT your commitment right out the gate.
Over and above the $900/yr investment, we also "screen" each and every person who has chosen to join us.
It doesn't matter if your business is rocking 7 figures a year, or you still haven't made your first buck.
We want to make sure you're a fit for our TRIBE. We want to verify that you're weird like us.
Because we value our time, we charge a FULLY-REFUNDABLE $200 to submit your application.
If you're accepted you'll just need to pay the difference to join ($700). If you're not accepted, we'll refund you your money in full.
— André & Anita Chaperon